Two of the most popular horror-themed worlds in comes are colliding. Cassie Hack and Vlad are about to take on some of Chaos! Comics darkest characters.
Commenting on his upcoming crossover, author Tim Seeley remarked, "I bought the very first Evil Ernie series off the shelf when I was a teenager. It was black and white and gritty looking…it felt like something I wasn't supposed to show anyone else. Perfectly scary and creepy. Which I loved. I still think of Chaos! in those terms. These are the comics that you hide under your bed. They're just for you."
Hackers
Writer Tim Seeley's Hack/Slash is still one of the best known horror comics out there. Its premise is a simple one, and seems like it kind of melds Buffy the Vampire Slayer style adventures with slasher movies. Cassie Hack is the "Slasher Hunter Supreme". She's teamed with a hulking brute known as Vlad. Together they take down monsters that are out for blood.
On the flip side of that, there's the Chaos! Comics crew. Evil Ernie, Chastity, the Chosen, and Purgatori are all pretty nasty in one way or another. And in this new crossover from Dynamite Comics, they'll be pitted against one another.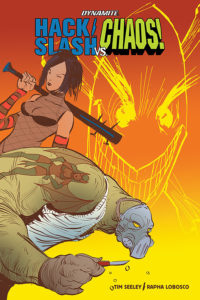 Teamed with Ernie, Hack and Slash will be taking on the lot of Chaos' best.
"We've been waiting for the right story before publishing a new Chaos! series and we knew we have it with Tim (Seeley), who is a true modern master of terror. And his script is perfectly paired with Rapha Lobosco's art, which blows us away with every new page," said Nick Barrucci, CEO and Publisher of Dynamite Entertainment. "It's great to come full circle with Tim with this new event mini-series as he helped relaunch the Chaos! universe when we first began publishing them.  Everything about this book is blood-soaked and beautiful."
Slashers
For the series, Seeley will be teamed with artist Rapha Lobosco. If you're already a Hack/Slash fan, then you know that name. Lobosco has worked with the characters before, though that's not all. He's also been the penciler on Dynamite's Vampirella and most recently their James Bond book.
So this is kind of a return to horror for him. And it's going to be a timely one too. You can expect the first issue of Hack/Slash vs Chaos! Comics to hit stands this coming October. Just in time for jack'o'lantern season.