Marvel's upcoming Spider-Man event is the deadly Spider-Geddon. And the first variant cover for it will be Spider-Punk by Will Sliney.
Punk rock
I can't say as though I'm really a fan of Spider-Punk, one of the alternate universe Spidey's introduced in Marvel's comics. He's one of the few Spider-Verse characters that's made an impact with fans though, there's something to be said for that. He even has an action figure!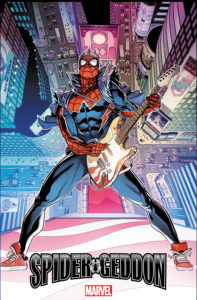 And honestly, whether or not I like the character himself, this is a cool cover. Drawn by Will Sliney, the variant will adorn the first issue of Spider-Geddon. That's the latest event book from the House of Ideas.
This Spider-Geddon variant is scheduled to land on the racks the same day as the standard #1. And I think it's probably safe to assume there'll be a few more too. It's Marvel after all.
This might be an event that fans should be paying attention to though. The publisher is promising some actually heavy stakes for it.
REVENGE OF THE SPIDER-VERSE! Marvel is excited to celebrate SPIDER-GEDDON #1 from Christos Gage and Jorge Molina with a new spider-punk variant cover from superstar artist Wil Sliney, with colors by Frankie D'Armata!

Featuring new villains and old villains, shocking deaths and shocking returns, and all the Spider characters you can fit into one larger-than-life tale, this is a Marvel Spider-Event not to be missed! Don't miss the opportunity to dive into this fresh new adventure October 10th, when SPIDER-GEDDON #1 hits comic shops!