McFarlane Toys had a nice lineup of licenses on hand at Comic Con, including a hint of those Cuphead building sets.
Maximum detail
For a good long time now, McFarlane has mainly made its rep on the level of detail that they included in their figures. Articulation has been sadly something that they haven't really concerned themselves with. It does seem, from some of the recent announcements, that they're stepping that game up a bit.
That's great to see, since McFarlane hasn't always been this way. The 90s version of the company, which focused on Spawn, used to have both great detailing and articulation. So here's to that, I hope it's a trend that continues for the company.
Another thing that they've gotten very into lately, are licenses. Video games have provided a plethora of new opportunities for McFarlane, including some monster licenses. Call of Duty, Borderlands, Destiny and more were all on hand for the Con.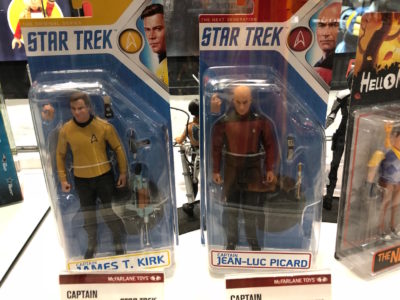 As you can see in the above gallery, there were some non-gaming properties included in McFarlane's booth too. Star Trek, Attack on Titan and others rounded out the collection of figures alongside Stranger Things. McFarlane has bought into the Netflix show in a big way, with a continuing series all its own.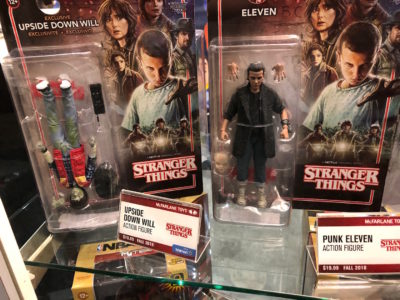 You gotta love sports
Of course, NBA and Madden offerings were plentiful as well. Two of McFarlane's newest additions to it's formerly "Sports Picks" series, the pair of sports figure series' now have that tertiary level of licensing.
Don't deal with the devil
Then there was Cuphead. There wasn't a whole lot to see featuring the side-scrolling video game, but there was a sampling of mini-figures. Basically, just enough to see that these are going to be some pretty neat sets.