Silver Surfer's history is about to get detailed ever so much more. Go back to his first foray as Galactus' herald in his first (modern) annual.
The Sentinel of the Spaceways
If you're like me, you had no idea that there even was a Silver Surfer book out there right now. I thought it'd been cancelled a while ago, so this is a kind of neat surprise. Doubly so when you consider the story it tells. Or actually, maybe not.
Not every "secret history" really needs to be explored after all. Sometimes it's cooler to have a character's past stay uncovered, to add to his mystique. Personally, I don't think I really have to know much more about the Surfer than we already do.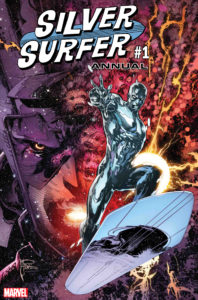 That's not to say that I won't read this though, because I probably will. It seems like a good old fashioned cosmic Marvel comic, and that I'm not going to pass up on. Watch for it on the racks on September 5th.
Here's the official preview:
The dark and tragic past of the SILVER SURFER…it's all been a mystery until now. This September, the Surfer's story is finally given the spotlight in SILVER SURFER ANNUAL #1, as Old Man Hawkeye writer Ethan Sacks and Thanos Annual artist André Lima Araújo bring you a tale told the Mighty Marvel Manner – with suspense, mystery, and adventure!

"When I was a kid, I used to marvel at how sleek and cool the Silver Surfer looked leaning forward on his board as he traversed the universe," said Sacks. "So in a sense, the chance to write him is a childhood dream come true. But seeing the fantastic way André draws him, I have to confess, I don't think he's ever looked sleeker or cooler."

Searching for a world that is worthy enough to satisfy Galactus, the Surfer comes across the perfect planet – but can he really doom an entire civilization to save his own? Join the cosmic journey this September, when SILVER SURFER ANNUAL #1 hits comic shops!