Witcher fans missing Geralt should be happy with this announcement from Dark Horse. The publisher will be putting out a fresh Library Edition this fall. It'll be loaded up with their comics based on the popular game series.
Visiting the library
I hand't realized how many comics Dark Horse had produced about The Witcher. For some reason I still think of it as a "new" IP for them. Though it still kind of is I suppose, they're fairly deep into the world adapted by video game developer CD Projekt Red.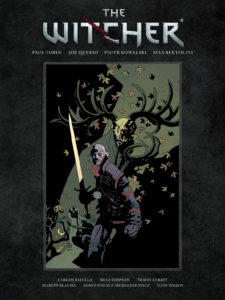 This new tome plays off of that depth, including three complete miniseries', as well as a one-shot. Of course, there are extras too, with annotations and a sketchbook section packed in.
All together, you get issues 1 – 5 of:
House of Glass
Fox Children
Curse of Crows
and…
the Killing Monsters one-shot
As for the Sketchbook, that'll have material from the likes of "Dave Johnson (100 Bullets), Dan Panosian (Slots), Stan Sakai (Usagi Yojimbo), Duncan Fegredo (MPH), Simon Bisley (Lobo)". And all of it'll be wrapped up in a fresh cover from the one and only Mike Mignola. Adding in the bonus material, that brings the page count for this one to a mighty 440 pages.
Watch for The Witcher: Library Edition to hit the shelves on October the 24th.