The next update for No Man's Sky, which is a major revision of the game, will indeed include some much asked for multiplayer. We've got some details on that, plus the actual release date.
Everyman's Sky
One of the biggest criticism's from the original launch of Hello Games' No Man's Sky was the lack of a multiplayer mode. Almost everyone seemed to have been under the impression that one was included. Yet there sure wasn't one when it shipped for the PC and PS4. Fast forward a bit though, and we're finally getting on track.
The new mode will be included in the update called No Man's Sky NEXT. That's also set to be the new retail box edition of the game, which will launch for the Xbox One. Of course, if you have the game already on one of the previous platforms, you're getting this all for free. This is an update, not DLC.
"Multiplayer completely changes the No Man's Sky experience, it's emergent, fun and intense in ways we always wanted it to be. I'm so happy this is finally happening" said Sean Murray, founder, Hello Games. "It is genuinely exciting to be able to fully realise the potential so many people could see in No Man's Sky. This will be our biggest update yet and we're pumped to be bringing Xbox players along on the journey with us now too."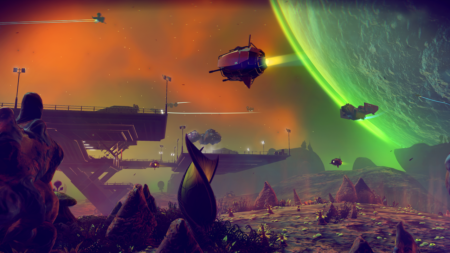 As for the full set of inclusions in the NEXT update, these'd be them:
Explore the infinite universe with your friends, or bump into random travellers.
As you voyage together, friends will help you stay alive, or prey on others to survive.
Build bases from tiny shelters to complex colonies that you create as a team and can be seen by the community.
Be a pirate or a wingman in epic space battles with friends and foes
Race exocraft across weird alien terrains, create tracks to share online
There's a bit more to talk about as to the Xbox release
As you might imagine, No Man's Sky NEXT for the Xbox One will include more than NEXT. The game will also come with the previously released updates as well. So you'll get Foundation, Pathfinder, Atlas Rises, and a bunch of other fixes, patches and whatnot.  Everything will be up to date, right from the jump.
As for the actually launch, Hello Games revealed that today too. Expect to see NEXT hit the Xbox One, as well as the PS4 and PC, on July the 24th in the US, and on the 27th in Europe.