The malevolent New God Darkseid is coming to the One:12 Collective, but you knew that. What you probably didn't know is that the DC Comics villain will be the first entry in Mezco's line that'll have a polystone composition.
Rock of ages
First, let's talk about what "polystone" is. Polystone is basically a mix of powered stone and resin. The result is a material that gives you a nice, stone feel, but without all the weight. It's also pretty tough and paintable, which is something that any statue collector knows. Companies have been forging collectible character statues out of it for a long time to great effect. I have not, however, ever heard of a polystone action figure.
But that's exactly what… Darkseid is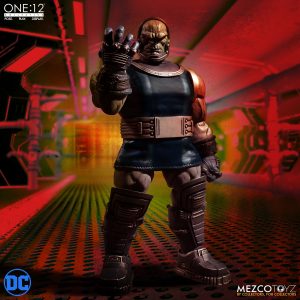 Actually, that's one of the new One:12 Colective figure's hooks. Mezco points out that Darkseid is I fact the "first ever fully articulated Poly-Stone figure". As you might have guessed too, his is an all-new body type that Mezco has created as well. So you won't see this massive form used with any other One:12'er on the market right now.
The dark god of Apokolips also comes complete with real metal parts, and another One:12 first – faces that you can swap out with magnets. Yep, seems like Darkseid won't have the typical swappable heads that so many of the One:12 line includes. Instead, he'll have faces that you can pop on and off. And since we're talking about then being secured with magnets, it should be even easier than the head gimmick.
There's a reason for the faces being interchangeable in leu of the head by the way. It's because Darkseid's eyes light-up, which should be impressive indeed with his Omega Beams attached.
Darkseid is available right now for pre-order on Mezco's site for $180 USD. Yes, that's more than usual, but he's got quite a bit more going on than a typical release in the series, and he's quite a bit bigger than the standard One:12 figure too. He's set to ship out some time in the September to November timeframe of this year.
THE ONE:12 COLLECTIVE DARKSEID FIGURE FEATURES:
One:12 Collective body with over 28 points of articulation
One (1) Light-Up helmet with four (4) magnetically interchangeable faceplates (removable)
Hand painted authentic detailing
Approximately 19 cm tall
Six (6) interchangeable hands

One (1) pair of fists (L&R)
One (1) pair of Mother Box holding hands (L&R)
One (1) pair of posing hands (L&R)
COSTUME:
Metal Helmet
Metal Chest plate and shoulder armor
Vest garment
Metal waist belt
Metal shoulder harness and cape (removable)
Boots with metal heels
ACCESSORIES:
One (1) Mother Box (magnetically attaches to belt)
One (1) One:12 Collective display base with logo
One (1) One:12 Collective adjustable display post