We've reviewed a few of Kingston's Hyper X gaming headsets in the past, but this is a little something different. This time we're taking a look at their first ever gaming mouse- the Pulsefire.
Game time
You might best know the name Kingston from the company's memory products for the PC. In that arena, they've been at it for a while, and they have a pretty solid rep too. At least, to me they do, though I'm not the biggest PC-builder any more. I haven't really tinkered with a "rig" in about a decade.
A few years ago though, I got introduced to the Hyper X brand. That's Kingston's PC gaming gear branch, and they've made a pretty nice splash with it, creating some cool stuff. Most of that has come in the form of headsets, of which we've reviewed a few. They've also produced a few keyboards at this point, and now have a gaming mouse out there.
As far as I know, this is the first mouse that Kingston has brought forth, and it's actually a very solid initial effort. Again, I'm about ten years out from being a hardware guy, but I had a good time with this one, so let's take a look and see if it's worth your cash.
Sharply designed and comfortable too
One of the most important things about gaming mice these days are looks. Yeah you can say that doesn't matter as much as you want, but light-up features, add-on grips, and whatever else has become a monster part of gaming mice.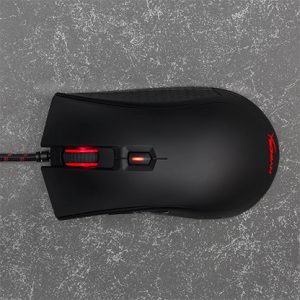 I myself have a Razer Mamba hooked up to my PC. And even though picking it up was probably a good deal of overkill for me, I just kind of… dig it. It's wireless, has a neat stand that lights up, and just looks cool in general. Honestly, I don't really believe anyone who says that they don't care about the way stuff like gaming mice look. You know you do.
So how does the Pulsefire measure up? Pretty good actually. This little mouse might not be over the top, but it isn't all that plain either.
Some cool red lighting effects highlight the body of the mouse, which is impressively fashioned. I might have a Mamba, but I don't buy a ton of gaming mice. Even so though, I can appreciate good design. And on that note, I can definitely say that I love the way the Pulsefire fits in my hand. It's also host to some grippy side paneling that provides a nice feel.
Bottom line, I definitely do appreciate those add-on grips and ergonomics I mentioned earlier, but the Pulsefire is pretty comfy all by itself. No pull-out parts or magnetically attached doodads needed. It's also got a fabric-covered cable, so you won't get tangles. That's something that I always like to see.
Functionality
While I stand by the thought that flashiness does matter in the present age, it's of course the actual functionality of a gaming device that makes the difference. Much like with the looks of the Pulsefire, the guts here are also fairly no-frills.
How no-frills? Well, aside from the left and right click buttons, the side of the Pulsefire has a pair of additional buttons and there's a click wheel. On the top of the mouse, there's also a DPI selector, with a little lighting effect. But that's about it. What's actually important here though, is that the Pulsefire works really well.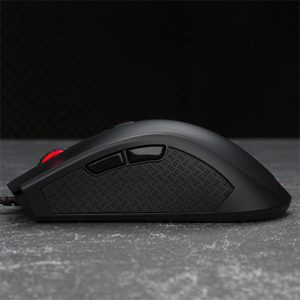 Hyper X's mouse glides beautifully on your mousepad, and all the buttons are nice and clicky. The company says that's due to the unit having Omron switches installed, which result in better reliability and responsiveness. I will have to believe them, since I thought the Pulsefire does just fine in the responsiveness category. I have't used it all that long however, so I can't really speak to the reliability of this mouse. We'll see I guess.
I do want to get back to the DPI for a second though, because it's worth a note. The Pulsefire has four settable levels of sensitivity, including 400, 800, 1600, and 3200 DPI. Each one is selectable via that mouse-top button, and each one has a specific color LED that accompanies its selection. It's pretty cool looking, and the range offered is solid for most gamers.
All of this combines to create a mouse that's all-around pretty high in the quality department. No, the Pulsefire is not going to knock you over in terms of gimmicks or unique functions. It kind of doesn't have to though.
The Pulsefire isn't a high-cost mouse, in fact it's the opposite of that. And to get a good quality gaming mouse for fifty bucks is a nice deal indeed.
Pulsefire gaming mouse
Release date: Available now
Platform: PC
Publisher: Hyper X
Mousing around
A basic design that's solid, but unspectacular - 71%
Good functionality, but noting that'll knock you down - 80%
Hyper X's Pulsefire is a very solid first effort from the company, in terms of mice. It's comfortable, got some solid functionality, and provides a terrific gaming experience with a low cost of entry. That said, don't look for gimmicks or extras that you tend to find in more expensive mice.