Thunder… thunder… Thundercats at Sideshoooooooooooooo. The statue-maker has taken the wraps off of it's brand new Mumm-Ra statue, and teased Lion-O.
Jaga would be proud
The Thundercats have been seeing something of a revival across the last few years. There was that failed subscription line from Mattel sure, but they've got more than that out there. The series of blind-box figures from Loyal Subjects is something of a hit, and there's even talk of a live-action movie. They also had a pretty fun crossover with Masters of the Universe thanks to DC Comics.
And now, there's a statue line.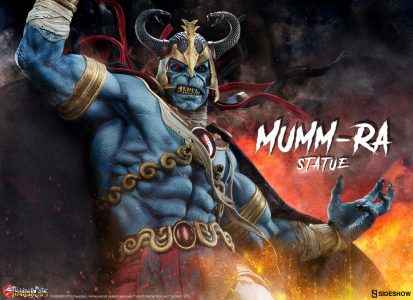 Sideshow has unveiled their newest series with an almost full look at villain Mumm-Ra and a shadowy tease of the heroic Lion-O. These look to be somewhat on par with the company's Masters statues, in that they're super-detailed, gritty takes on the characters.
That's a very cool thing as a collector, since it probably means that they'd look great next to the He-Man themed statues on the old shelf. Well, assuming the scale is the same. Right now we don't know if that's the case. Actually, we don't really know anything of substance about these bad boys.
We do know however, that you can add your name to the official "RSVP" list. No, that doesn't secure you a statue, but it does get your email address added to the list to get the first stab at a pre-order.
Click the links below for for that.