Worried that you won't be able to find that Nintendo console come Holiday time? Well you can probably allay those fears game fans, as Nintendo says you shouldn't have a problem. Now, are you inclined to believe them?
Switch's for everyone
Releasing earlier this year, the Nintendo Switch has apparently brought the iconic game-maker back to the fore. Let's face it, after the tail-end of the Wii's lifespan, and the near total debacle that was the Wii U, a hit was sorely needed.
And that's exactly what Nintendo got out of the home/away console. It's doing quite well with almost 5 million sold through June 30th, and is looking towards a big Holiday Season. But about that, is it even remotely possible that the company will have enough units out there to satiate demand? According to one Reggie Fils-Aime, the answer is a resounding 'maybe'.
Speaking last week at Variety's Entertainment and Technology Summit, the Nintendo of America Pres said that both the demand and the company's supply chain is "there" to hit 10 million consoles sold (globally) by fiscal year's end. Please note- fiscal year's end. He's not talking about the Holiday Season there.
The fiscal year does not end on New Year's Eve. Keep that in mind, because Nintendo isn't really promising that there'll be stock out there. Fils-Aime added that Nintendo was "focused" though, on getting enough Switch consoles out to meet Holiday demand.
The bottom line here, is that we just don't know if Nintendo will come through or not. Despite what they say, this is a company that's heavily rumored to short supply regularly. Sure, not producing enough NES Classics might have cut the potential for profit, but it also made the little throwback look a heck of a lot hotter than it might have been.
Not being able to find an NES Classic at retail created a fervor. So much so that it sold out within minutes pretty much everywhere that it came into stock. And that brings us to point two for today.
So. Will the SNES Classic be hard to get or what?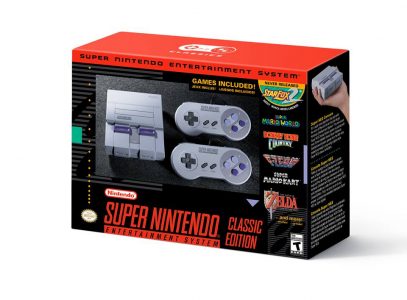 The thinking here is -of course- you bet it will. But we do have some hope that it won't. Yes, this time around, we actually have a comment from Mr. Fils-Aime, one that's quite positive and hopeful for fans.
Reggie told the Financial Times that Nintendo has "dramatically increased" production of the SNES Classic. He even went on to say that gamers really shouldn't buy the console at a premium price online. Presumably because Nintendo is confident that there'll be enough out there for anyone who wants one this Holiday.
In the past, Nintendo has made similar statements about the forthcoming retro-console. Of course, between the two time periods, they also had a pre-order situation that was a complete and total disaster. Though they say it was out of their control, I know first-hand that pre-orders of the SNES Classic posted to retailer websites at extremely odd hours and without any notice. Basically, they appeared and disappeared just as the NES Classic pre-orders (and subsequent stock) did. Why not just announce a global pre-order date? Not great.
So does it appear that things are getting better in retro-Nintendo-land? Honestly, not really.
If I'm not mistaken, Nintendo made very similar stock assessments about the NES about a year ago. In fact, I'm positive that Nintendo assured gamers that NES Classics would ship throughout the Holiday Season. That was something that effectively didn't happen, since stock online vanished within seconds of posting (I can attest to that).
From the eBay listings, it certainly seems as though it mostly went to scalpers too. A solid chunk of people were only too happy to turn the NES Classic into a money-making opportunity on the secondary market. Oh, and local GameStop stores that I spoke to (metro NYC) told me that regular shipments basically didn't happen. One that I visit regularly got an additional shipment (past launch) once. ONCE. Thanks Nintendo.
Of course, I'm hopeful that this time isn't an over-statement, and that Fils-Aime is being truthful. And I really mean that, since I want one of these myself. That said though, I'm not going to count on anything.
The SNES Classic hits store shelves (maybe) on September 29th.