Hack and slash your way through Victor Vran, developed by Haemimont Games and published by THQNordic.
Oh no – the cursed city of Zagoravia is full of demons and monsters. Who ever will save the last few residents of Zagoravia? In comes, Victor Vran, a well-dressed demon hunter, fedora and all. Victor has decided, by himself, that it is up to him to liberate this once great city and he will do whatever it takes to hunt down these demons.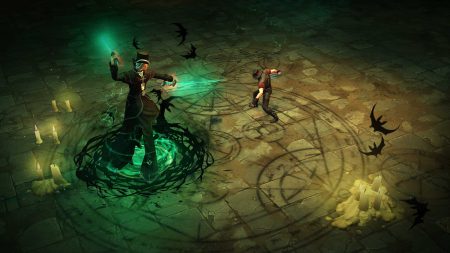 The Monsters Of Zagoravia Will Fear Victor Vran
The cursed city of Zagoravia is a beacon of opportunity for demon hunters. They come from all over the world to try and slay the monsters and save the people of Zagoravia. It seems a long time ago a princess got deathly ill. No one could save her expect a man named Gabriel. There was nowhere else to so she made a deal with the devil to live for 13 more years.
Gabriel promised that when the demons came to claim the princess, they would not find her or see her. This blessing was more of a curse as the monster pillaged the city of Zagoravia during their attempt to find the princess. As such, the princess has kept this a secret all this time and now it is up to Victor Vran to push back these demons and bring back peace and prosperity to this once proud city.
Expect to encounter a lot of interesting bad guys throughout the game. There is also a smorgasbord of typical enemies, ranging from spiders, vampires and skeletons. Though there is a variety of enemy designs and the characters continue to be fascinating. The story is told in static cut scenes with some odd dialogue. Throughout the game, there are constant reminders of Victor's affinity for fedora hats.
It was cute that the writers could acknowledge it the first time, but the subsequent five to eight reminders start to wear a little thin. The humor overall seems a little out of place for this game. There is such a solid foundation of lore and history in this game, but it is all lost because the humor of Victor seems out of place. While the story is fun and engaging, the real star of Victor Vran is the gameplay. This is a fast-paced action adventure game and it is a blast to play.
Combat Demons While Wearing A Fedora
Victor Vran is a fun and fast-paced action-RPG (ARPG). There is so much to like about this game. The combat is like Diablo 3, although there is a little less cosmetic customization. To some people, this may be a breath of fresh air. For others, myself included, I felt the customization was limited (I just wanted more) for an ARPG. Players will take on the role of Victor Vran – every player is Victor – albeit with a different outfit load out.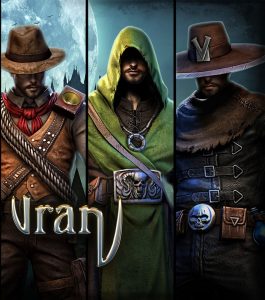 There are eight outfits for Victor, each with their own advantages and disadvantages. These outfits decide how a player creates Overkill. This power can be collected through inflicting pain, killing enemies, or taking damage. Once the Overkill meter is full, players can unleash a powerful special attack. Victor is equipped with a plethora of weapons so killing monsters never gets boring.
There are three standard attacks for each weapon. Victor can slice down his enemies with a sword or a sickle. He can smash his opponents with a giant hammer or he can use a shotgun to mow down monsters. Victor is able to switch between two weapon sets, so players can find the perfect combo of weaponry for their playstyle. Players can use combos to further defeat the hordes of pure evil. Victor also could jump and dive, but he cannot duck. An interesting inclusion of customization are the Destiny Cards. These cards will help make Victor Vran big and strong.
Pick A Destiny Card, Any Destiny Card
Throughout the game players can further increase character traits using a card system. These cards will create elemental effects, speed up cool down times or raise critical hits by a certain percentage. This is a really fantastic way to further develop characters to g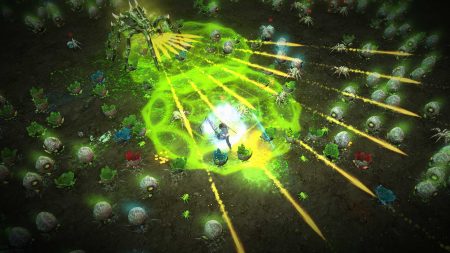 o with the players play style. If you like a ranged character, you can build up a agile character that shoots critical hits. Need more gold, then equip a card to increase gold output. Players can focus heavily on one type of power or they can create complementary powers as they battle their way through the story. When the story does end, there is plenty of material to keep players going through the end game.
End Game – We've Only Just Begun
There is still plenty to experience after the game ends. Players can hunt for treasure by defeating bosses throughout the levels. There are also a set of elite challenges to test even the roughest of gamers. Take on other Victors in Become the Victor in The Circus PvP arena. This is a great game and anyone who enjoys ARPGs should check out Victor Vran.
My Two Cents
If you could not tell from above, I thoroughly enjoyed this game. The action is fast-paced, but not too dull. Aside the encompassing gameplay, players can enjoy Victor Vran with their friends as this can be a co-op experience, through the Xbox Live or on the couch. There is a lot more to this game as well. This review was for the Overkill edition. Fans of the game can continue their adventures in Fractured Worlds and Motorhead Through the Ages, yes, the heavy metal band, Motorhead.
Victor Vran Is A Devilishly Good Game
Fedoras - 100%
Story - 70%
Gameplay - 90%
There has been a severe drought of Action RPGs on the Xbox One so Victor Vran is a welcome edition to the gaming library. Fans of Diablo will enjoy playing and players can experience with their friends.