The vicious Skaven will be on hand for Gamescom in Total War: Warhammer II. Watch 'em run wild in the latest trailer.
All out war
Playable on the show floor at Gamescom, Total War: Warhammer II is part two of a three part trilogy of strategy games. And it looks like developer Creative Assembly is set to outdo themselves.
Once again, the Old World of Warhammer is about to be engulfed in all out, tooth and claw warfare. As you can see, it's looking pretty darn good with stunning graphics and an impressive assortment of troop-types from Games Workshop's classic tabletop wargame.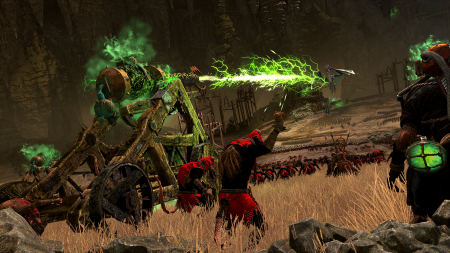 Here in this fresh trailer, we get a glimpse of the Lizardmen, the Dark Elves, and the Skaven. And while there are plenty of smaller units on display, it's the big boys that really impress. That dragon is flat-out awesome.
A new story will highlight the game, as we'll get to wage war across Lustria, Ulthuan, Naggaroth and the Southlands. Yep, all new territories. The campaign, called the Great Vortex, is really being touted by Sega and CA too. According to the press release "The Great Vortex Campaign builds pace to culminate in a definitive and climactic endgame, an experience unlike any other Total War title to date". So, a little hype there then? Yeah.
A total of four races will be playable in the game (at launch), which means we have yet to meet one of them. Launch time is right around the corner too, so we might be seeing whatever race it is sooner than later.
Total War: Warhammer II hits the PC on September 28th.