This week's Nintendo Download is a good one. No really, it is. Not only do we get Sonic Mania, but also a bunch of additional titles, and a really solid demo.
Sonic!
Finally, at long last, Sonic Mania is here for the Switch. It's clearly the headline game this week, though Nintendo is promoting another release almost more than the Blue Blur's latest. That game? Flip Wars.
No, I have no idea what it is either. It looks kinda neat though, and it's got online play if you're into that. So, yeah – Sonic!
In other Switch news, the console also gets the stylish Severed this week, and that demo I mentioned. This one is a game that you'l definitely know, it's Rayman Legends Definitive Edition. Kind of snuck right up on you huh?
Not the full game, this is -again- a demo. What's included isn't revealed in the press release, though I assume it'll be a nice little appetizer, before the main event when Legends hits on the 12th of next month. You know, usually I don't get excited over re-releases, but I never played Legends, and quite frankly it looks gorgeous. Should be a solid addition to the Switch.
So all in all, a pretty great week for Nintendo. And yes, of course there's a Neo Geo game too.
Nintendo eShop on Nintendo Switch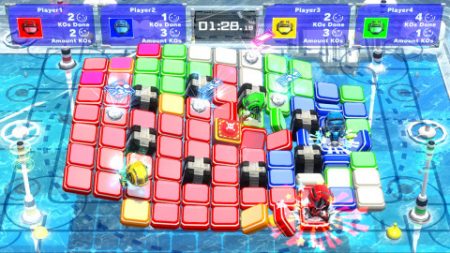 Flip Wars – This tense multiplayer action game will have you stomping to flip over panels—and unwitting opponents. To win, flip the most panels to your color in local battles*, online** or single-player. The more you flip, the faster you'll move in a mad dash to nab power ups. Increase your flip range, turn invincible, and more across three modes and 12 arenas.
Sonic Mania – 2D Sonic is back in a new adventure. In a celebration of past and future, play as Sonic, Tails and Knuckles as you race through new Zones and fully re-imagined classics, each filled with exciting surprises and powerful bosses. Go head-to-head with players in Competition Mode or play in Co-Op Mode with a friend. Welcome to the next level for the world's fastest blue hedgehog. Sonic Maniawill be available on

Aug. 15

.
Severed – From the creators of the Guacamelee! game and inspired by classic dungeon crawlers, Severed puts players in the role of a one-armed warrior named Sasha who wields a living sword on her journey through a nightmarish world in search of her family.
Nintendo eShop on Nintendo 3DS
MONSTER HUNTER STORIES (Demo Version) – Venture into monster nests to collect eggs and hatch a wide array of species with uniquely powerful skills. Form teams, battle alongside them, crush opponents with combo attacks and ride into the sunset a champion. Need more muscle? Then mix and match genes to create monsters with more abilities.
Nintendo eShop sales:
Nintendo eShop on Wii U and Nintendo 3DS
Activities
Fire Emblem Heroes – Fans of the mobile game will see a flurry of activity this week.

Starter Support Events: Beginner and veteran Summoners alike will have a chance to strengthen their armies. During this event, they can summon five-star versions of four popular Heroes, and enjoy special log-in bonuses.
1. Hero Fest: 12 a.m. PT Aug. 10 to 11:59 p.m. PT Aug. 17 at: Here comes a Starter Support Hero Fest to help out new Summoners. It features some great Heroes at a boosted starting appearance rate of 5 percent.
2. Log-In Bonuses: Now through 11:59 p.m. PT Sept. 10: You can earn up to 60 Orbs! Here's how:
Starter Support Log-In Bonus: Receive 20 Orbs if you log-in between now and

11:59 p.m.

Aug. 24

.
Six-Month Anniversary Celebration Log-In Bonus Part 1: Receive 20 Orbs if you log-in now through

11:59 p.m. PT

Aug. 21

.
Six-Month Anniversary Celebration Log-In Bonus Part 2: Receive 20 Orbs if you log-in between

12 a.m. PT

Aug. 22

and

11:59 p.m. PT

Sept. 10

.
New features coming to version 1.6.0:

New mode: Arena Assault: In this mode, you'll need to use a different team of Heroes in each map for a real challenge.
New feature: Catalog of Heroes: Check out all the Heroes you've met so far.
Plus, the Max Hero Merit limit has been raised from 2,000 to 3,000+.

New updates: Tempest Trials Get Powered Up: The event runs 12 a.m. PT

Aug. 11

until

11:59 p.m. PT

Aug. 24

.

Auto-Battle will automatically continue until you clear all maps or your team is defeated.
Team Management for Multi-Map Battles: You'll be able to create up to 10 reserve teams.
New Stage with level 10 foes.
Score Bonus: Each day, you'll get triple the points the first two times you head into battle.
Stat Boost for Bonus Allies: When you use Bonus Allies in Tempest Trials, they'll get a 10-point boost to HP and a four-point boost to all of their other stats. They also will earn double experience and SP.

Celebrate Kirby's 25th Anniversary with activities throughout August – It's been 25 years since Kirby debuted in the Kirby's Dream Land game on the Game Boy system. That's worth celebrating! You can redeem your points and get these celebratory Kirby 25th Anniversary items:
Also new this week: