NECA is aggressively expending its Teenage Mutant Ninja Turtles offerings with a series of figures straight from Dimension X. And let's not forget the AvP arcade game figures…
The mean green ninja teens
If you haven't noticed, NECA has been producing some of the very best Turtles stuff that's ever seen a store shelf. Well, to be fair, maybe the best out of all of it didn't -and won't ever- see a shelf. I'm talking about their SDCC 2017 Con exclusive of course. Since Playmates Toys is the mass market retailer for the Teenage Mutant Ninja Turtles, NECA can only sell stuff like this at cons. But oh, how glorious it is.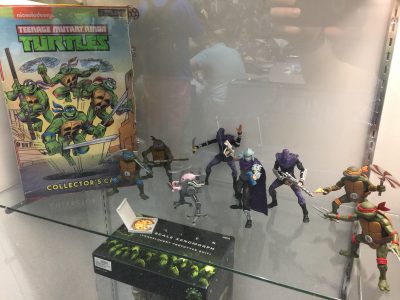 The set came in a TMNT-themed collector's case that recalled toy-memories of decades gone by. And inside? All four Turtles as they appeared on the original TV show, as well as Shredder, Krang, and two Foot Soldiers. Yep, the only characters missing were Bebop, Rocksteady, Splinter, and April. Well, and some of the cooler periphery cast members. But with NECA's license being so limited, there's little chance of seeing any of those… right?
Wrong. The company took the wraps off of the rock commandos from Dimension X as well as fan fave villain Slash. And of course, they all look awesome.
The definitive movie Turtles
That's not all though, as the booth also showcased a new quarter-scale figure with Raphael in his disguise. There's set to be a weapons pack too, and a set of baby Turtles. Fan of props? Then you'll want to know about the Casey Jones hockey mask and the TCRI canister of mutagen ooze- all coming to retail soon. How they managed this stuff, I have no idea.
Return to the cabin for more Ash vs Evil Dead
Now this is NECA we're talking about, so you best believe that the company has plenty of horror offerings on the way as well. Don't worry, it's not all mutant superheroes.
Ash vs Evil dead in particular, has an impressive lineup of stuff on the horizon. The Ashy-Slashy puppet is still on the way, and series 2 of the AvED figures were announced. Ash in his asylum gear looks especially cool.
And don't forget about the Evil Dead II 2-pack and the Ultimate Ash either. Both sets look great.
In the arcades, no one can hear you pump quarters
Digging the horror, but prefer a side of sci-fi? Then you're going to love these. NECA has announced that their video game series of figures is about to grow yet again, with the continuation of one line and the debut of another.
First, Robocop vs The Terminator is getting a fresh set of toys. Robo-Terminator hybrids are coming, along with Terminator Dogs. Oh, and there's a jet pack too – mimicking the way that Robocop's Terminator-crushing army appeared in the Dark Horse comics.
Aliens vs Predator is the other line, and man is it awesome. NECA has produced a ton and a half of excellent figures based on both movies (and comics) in the past, but this series is something all-together new. It's based on the seldom-seen arcade game of the same name.
No, we're not getting a video game version of Dutch (with his cyborg parts), but we are getting a six figure spread of xenomorphs and Yautja. And yes, they're looking freaking awesome.
As you might imagine, there was more on display at SDCC for both Aliens and Predator. As I said, NECA is on a serious roll with both monsters. Most of it has been seen before, but just in case…
Yes, that's Jim Cameron in a Colonial Marine uniform. Anyway.
The best of the rest
That's the biggest stuff, but there was more. NECA also showed off their Valarian, Heroes of the Storm, and Blade Runner 2049 figures. Have a peek.