Comic Con has barely started, and there's already some awesome stuff coming out of San Diego courtesy of Mezco Toyz. Thor, Catwoman, Hulk, and more are joining the One:12.
Marvel movies come to One:12
I'm not totally sure, but I think this is the first time that a Marvel movie has made the jump to Mezco's excellent One:12 Collection of action figures. There've been One:12's of DC film characters before, but this might be the first Marvel selection. As as that goes, they picked some cool ones.
Both Thor and Hulk are on the way, from the forthcoming Thor: Ragnarok movie. Both look pretty great too, patterned after their appearances in the film. As usual, they come with a nice assortment of hands, heads, and accessories. I can't say I'm over the moon about either though, and that's because I really want a basic Thor and Hulk to go along with my Marvel Comics Cap. I don't mean to pour water on anything though, cause again, these are pretty awesome.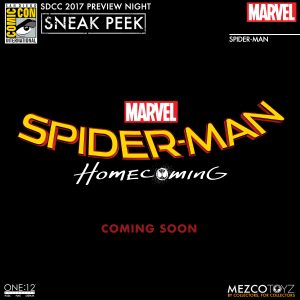 We don't have a look at what's on the way from Homecoming, though we do know there will be figures thanks to a teaser of the logo. Will we just be getting Spidey, or might some heroic and villainous accompaniment make it to the line as well? Really hoping we see a Vulture here. He was all kinds of cool.
Back to the source
Aside from the movies though, we also have a few comic-centric reveals today. Both Catwoman and Batman Beyond are on the way.
Catwoman reflects the current 'Rebirth' look that the character is sporting, and other than the purple 90s look, it's probably my favorite for her. Very nice choice there. As for Terry, Batman Beyond is looking excellent, and even includes boot-jet flairs, so you can pose him flying around future-Gotham.
No dates on any of this stuff yet, but that's to be expected. Mezco usually announces One:12 figures well in advance of retail releases- and there are a ton of other releases to go before these guys and gals will be hitting.
If you're at Comic Con this week though, make sure you stop by booth #3445. Aside from picking up some of Mezco's show exclusives, you'll be able to scope these freshly announced figs in person.