Alien: Covenant will have a pretty large presence at Sand Diego Comic Con.
The Ridley Scott directed film released theatrically earlier this year, and will be coming to DVD, Blu Ray and other home media versions on August 15.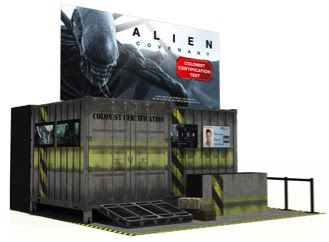 The actual presence at the show will be more than a standard booth, though.
Courtesy of Twentieth Century Fox Home Entertainment, fans will be able to test their merit in an attempt to qualify as a colonist for the next Weyland-Yutani colonization mission.
After completing the test, fans will receive a special badge and a set of collectable pins. Fans will also be able to pre-order the film and receive a special edition lithograph while supplies last, according to a press release.
The movie will have a presence off of the show floor as well.
" On Thursday through Sunday, convention goers can seek and take photos with the "Secure Egg Transport" featuring fragile and dangerous Alien eggs guarded by employees of Weyland-Yutani.  Those that tweet using the hashtag #AlienSweepstakes during Comic-Con will be entered to win an authentic Alien: Covenant replica facehugger," the press release reads.