The XO THREE and RECON 150 Deliver the Essentials Needed to Secure Multiplayer Victory – Including Large 50mm Speakers for Amazing Game Sound, Turtle Beach's Renowned High-Sensitivity Mic for Crystal Clear Chat, and Unmatched Comfort.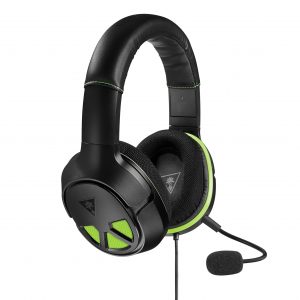 Turtle Beach Announces…
Turtle Beach today announced the new XO THREE officially licensed gaming headset for Xbox One and RECON 150 for PlayStation®4 are now available at retail. Both headsets feature large 50mm speakers (with 56% more surface area compared to the 40mm drivers found in other gaming headsets in this price range) and Turtle Beach's renowned high-sensitivity mic to deliver the essential high-quality game audio and crystal clear chat needed to secure victory on the multiplayer battlefield. The XO THREE and RECON 150 are available now at participating retailers for a MSRP of $69.95, with the RECON 150 available only at Best Buy in the U.S., and at participating retailers in the UK and Australia, and in select territories across Europe.
Details on Turtle Beach's XO THREE and RECON 150 are include:
Rugged & Comfortable Design – The XO THREE and RECON 150 have a thick, rugged and robust frame with a plush synthetic leather-wrapped headband and breathable fabric-wrapped ear-cushions that allow you to play for hours in complete comfort.
Surround Sound Ready* – The XO THREE is surround sound ready for Windows Sonic for Headphones on Xbox One (and compatible Windows 10 PCs) so you can experience your games, movies and music with deeper immersion.
*Windows Sonic for Headphones only available on Xbox One (and compatible Windows 10 PCs).
Large 50mm Speakers – Hear every crisp high and thundering low with these large, high-quality 50mm over-ear speakers.
Crystal Clear Chat – Turtle Beach's renowned high-sensitivity mic picks up your voice loud and clear, and can be removed when watching movies or listening to music.
Convenient In-line Controls – Convenient in-line controls place Master Volume and Mic Mute right at your fingertips.
For more information, you can find their products at TurtleBeach.com
Hear Everything. Defeat Everyone.