Sega's Sonic the Hedgehog celebration (Sonic Mania) is on the way. Check out Green Hill Zone Act 2 and more in the newest gameplay trailer.
Sonic Mania!
Pretty cool. Lots of nostalgia in there, especially in Act 1, and some new stuff too. Sega isn't revealing all yet though, not by a long shot. There's a boss for Act 2 that's apparently still under wraps, and there's no hint as to who or what it might be. Sega does say though, that the honcho of the level will be "notably different from the original".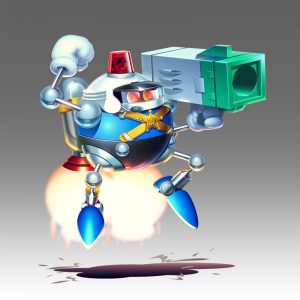 They're not keeping mum on everything though, as the Hardboiled Heavies have most definitely been revealed. These boss characters are a new addition to Doc Robotnik's -I mean Eggman's– army. Apparently, and I'm sure this is plainly obvious, they're "equipped with special skills designed to make a blue hedgehog's life much harder."
They won't be in every level though. The first of them won't show up till Studiopolis Act 1, but he sounds like a memorable one. Taking to the air, Heavy Gunner is packing a helicopter and a rocket launcher. Sega says it's to discourage speeding, which I imagine Sonic isn't gonna like too much.
Featuring three playable characters and loads of new stuff thrown in, Sonic Mania is set to revisit the best of the Blue Blur's adventures. Brag a copy for PC, PlayStation 4, Xbox One, and Nintendo Switch when it hits this Spring.