A new trailer for Shadow of War features the return of Talion and Celebrimbor as they lead an army of orcs to storm a castle. The sequel to the smash hit, Shadow of Mordor, looks to bring back everything that made the first game such a success. So what does developer Monolith do to create a new experience? They introduce siege warfare, new creatures, new orcs and new locations across Mordor. They also updated the infamous Nemesis system.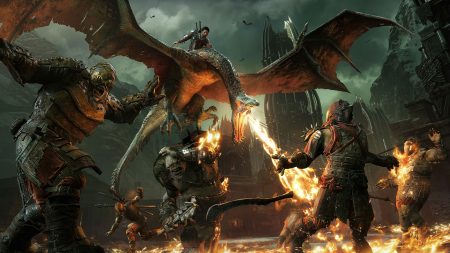 The Nemesis System Is Back
With the reveal of Shadow of Mordor, came the revolutionary gameplay mechanic, the Nemesis System. This system was built on an hierarchy of orcs, all with individual personalities. Each enemy in the game had a set of skills and personality traits. If an orc were to kill Talion, then that orc would receive a promotion in the hierarchy. The Nemesis system delivered a dynamic new method of creating additional stories within the game. Along Talion's journey, he gains the ability to dominate orcs and turn them into soldiers. In Shadow of War, Talion will lead whole armies of orcs in his quest to stop Sauron.
During the gameplay trailer, several new types of orcs are introduced. Talion will have to battle spell casters, giant orcs as well as new creatures. The drake is a new creature available to rain down terror on Talion and orcs alike. This dragon-like creature soars through the air and can breath fire and spit fireballs. Through the Ring of Power, Talion will be able to ride these monstrous beasts as he tries to conquer Mordor.