Los Angeles, CA, President's Day 2017 – What if a fascist, autocratic President took over the United States? And what if that President lost California, the sixth largest economy on Earth, by nearly 2-to-1…a margin of almost 3 1/2 million votes? Announcing a Provocative, New Comic Book Series from Black Mask Studios.
CALEXIT – Great Losses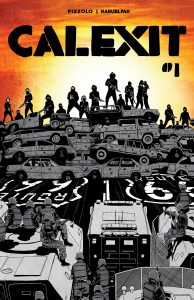 What if that President lost California, the sixth largest economy on Earth, by nearly 2-to-1…a margin of almost 3 1/2 million votes? What if the day after that President took power, the largest mass demonstration in history occurred, and the state with the largest turnout was California. And then, the following week, two of the largest international airports in the world, California's LAX and SFO, were blockaded by protesters? What if California refused to be ruled?
This is the world of CALEXIT, the new ongoing comic book series launching this May from Black Mask Studios, the Los Angeles based indie publisher of acclaimed titles including SPACE RIDERS, WE CAN NEVER GO HOME, KIM & KIM and BLACK. Together writer Matteo Pizzolo and artist Amancay Nahuelpan, the creators of YOUNG TERRORISTS, have created a timely title about resisting oppression, punching Nazis, protecting each other, kicking ass, and demanding liberty for all.
California Has Had Enough
aIn CALEXIT, the citizens of California will struggle to seize power back from an autocratic government. The ongoing series tells the story of Jamil, a 25-year old courier (aka smuggler), and Zora, a 27-year old leader in the Pacific Coast Sister Cities Resistance, who escape together from a prison camp in Occupied Los Angeles, where martial law has been in place for the past year — ever since America's demagogue President signed an executive order to deport all immigrants, and California responded by proclaiming itself a Sanctuary State. Each issue of CALEXIT will also include non-fiction material about local sustainability and grassroots campaigning for 2018 elections.
"I can't think of a time when confronting the status quo with progressive, political art has been more important," said Brett Gurewitz, co-founder Black Mask. "Black Mask Studios has consistently focused on stories that are both entertaining and have a real message driving them. With OCCUPY COMICS, we published stories devoted to the goals and themes of the Occupy movement. Since then, we published stories about living under a fascist state (GODKILLER), about fighting celebrity politicians (YOUNG TERRORISTS) and gentrification (THE DREGS). We've published the 2017 GLAAD nominee KIM & KIM, and the creators of the breakout hit BLACK have donated proceeds to Black Lives Matter. The fact that the comic market is supporting brave voices like these is a real testament to comics' crucial role in our national and international cultural dialogue."
The first issue of CALEXIT will be available from Black Mask Studios in May 2017.