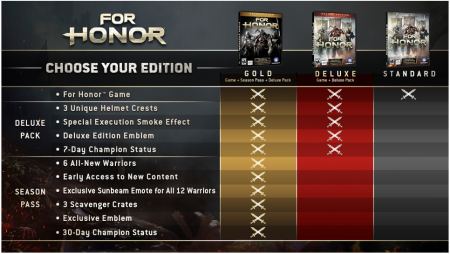 For Honor season passed was leaked later today on the Uplay Shop but has since been taken down. But before that, we got a chance to take a look at what we can expect from the three different game bundles of For Honor.
The Standard bundle gives you the base game and if your pre-order you get the "Legacy Battle Pack including 3 exclusive Hero outfits, one each for the Warden, Raider and the Kensei warriors." It will cost today's standard for video games, $60.
Early Access to Items
It can only go up from here, so there is the Deluxe Edition which includes some vanity items and a 7-Day Champion Status. This will run for an addition $10 on top of the $60.
Now it's time to go gold with the Gold Edition which is basically the base game + the Deluxe Edition + the Season pass. This includes 6 All-new warriors (plus 1-week early access), more vanity gear, 3 scavenger crates (which means, yes there will be a grind element to this game), and a 30-Day Champion Status. The total will amount to $100.
We are also getting a Ninja and Centurion which are both coming soon.
Ubisoft has definitely done this before with Rainbow 6, having 3 different bundles and it seems more AAA games are doing it this way too. Instead of waiting before they announce the next DLC they put it right up front so you can decide now if it's worth it.
If you Like This Check Out these:
TriForce to produce For Honor: Apollyon Edition