Splat! Nintendo and Dark Horse are back at it with another collaboration, with The Art of Splatoon.
Splatterific Art
Art design might not be what you think of first when you consider Splatoon. When you think about it though, the team-based arena shooter has got that Nintendo charm spades. So it's only right to assume that it probably has a pretty nifty catalog of art to go along with it. And that, my friends, is what brings us to this announcement from Dark Horse.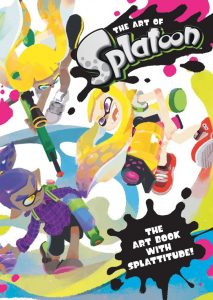 The publisher has worked with Nintendo before, proceeding two Legend of Zelda tomes, and this will be their first outside of that fantasy universe. As one of Nintendo's biggest games as of late (sort of), Splatoon was more than likely an easy pick.
I do have to admit, I'd have much rather seen something in the vein of Super Mario Bros, or Metroid, but The Art of Splatoon keeps the Nintendo/Dark Horse train a-rolling at the very least. And let's be honest; it's a Dark Horse art book based on a Nintendo property. It's going to be a fun one. That's almost a given.
Expect 320 pages of art and description from this one. Including "2D and 3D illustrations of characters, maps, concept art, weapon and gear design, storyboards, sketches, hand-drawn comics, and more". Look for on shelves on June the 13th of this coming year.
Oh, and don't forget that The Legend of Zelda: Art and Artifacts hits first, landing on February 21st, 2017. If you dug Hyrule Historia, you're bound to find something to like about that one too.