SteelSeries continues to cement their position in the competitive PC gamer scene with the QcK and QcK + Limited mousepads. Let's see what a side-by-side comparison has to offer.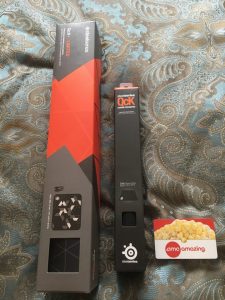 Today I was blessed with not just one, but two of SteelSeries' mousepads to review. Now, I will admit, there have been times where I scoffed at the idea of a mousepad at all.
Then there was the time where the only style I wanted to find, was a hard surface, which led me back to the 'no mousepad' era. Then I recieved a mousepad as part of a subscription.
This was my first foray back into the world of the mousepad. That mousepad was nice, but let me tell you a bit about what SteelSeries has to offer…
SteelSeries QcK
Coming in at just over 10″ by 12″, the QcK competition-grade surface mousepad is no slouch. At 2 millimeters thick, it is just enough to raise your gameplay off that table, and into the arena of your choosing. With a high quality cloth surface do give you their best possible DPI sensitivity and a SteelSeries branded rubber bottom to keep things in place, you can't go wrong.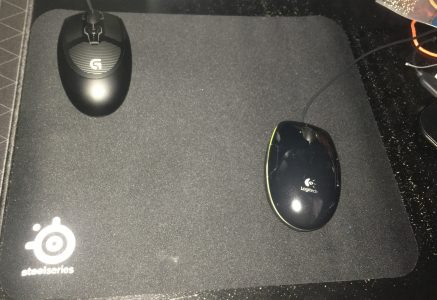 There is plenty of room to get around here, and with today's gaming mice, the QcK can be a perfect sized base for your game.
SteelSeries QcK + Limited
Now, if you are the type that, regardless of how much room you will actually use, you want a larger mousepad to cover your gaming station, we have you covered as well. Offering over 15″ by 17″ of playable surface, you will have ample room run in any MMO or RPG you can dream up. 3 millimeters thick is still a comfortable height to raise your game. The QcK + Limited offers stiched edges, as well as a micro-woven cloth top.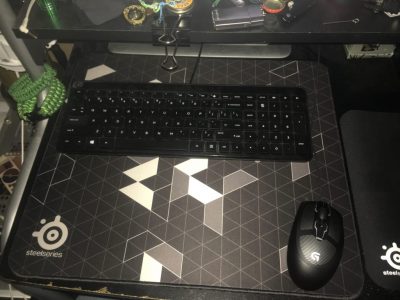 This attention to detail will make sure that you will focus on your game, and not your gaming surface. The 3mm mousepad has just enough mass to it, that when you unroll it from the package, it is ready to lay down and support your heavy firepower.
Personally,  I like them both. The QcK will take a little getting used to, as it's texture is more than I would typically go for. The QcK + Limited will take center stage. Regardless of what I am working on, SteelSeries will have me covered.
Whatever type of gaming style, SteelSeries aims to keep you covered. The QcK is available for $9.99, while the QcK + Limited retails for $24.99.
Mousepad Mania
Looks: QcK appears bland, while the QcK + Limited has a little fun with its presence - 78%
Sizing: QcK is a great fit, but sometimes its just more fun to go bigger - 91%
Feel: The QcK is a little rough for me. QcK + Limited will make you forget you are using a mousepad. - 90%
From the high-DPI sensitivity of competition gamers, to the broad spectrum of uses for the average PC user, SteelSeries mousepads will please, and dare I say, impress, any user that employs them.