Batman City of Light
Episode 5 of the Batman Telltale Series, brings quite a dramatic end to the first season, as well as leaving us in a perfect position to make way for a second season.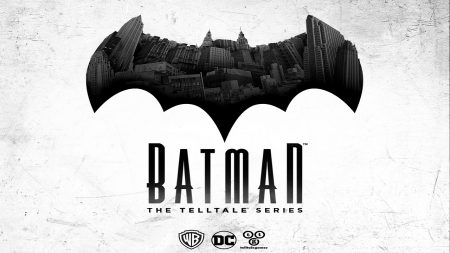 **spoiler alert**
Anyone who has played a Telltale game will tell you that the chapters are relatively short, and don't always require a lot of action. They are a bit more like watching a movie unfold, and having control of some of the more important scenes. Your choices will affect the existence of Selina Kyle (Catwoman), Harvey Dent (Two-Face) and more. Several of the Batman baddies have made their way in to this tightly-packed season, and it has been a blast, every step of the way.
Villains, Oh My
City of Light moves along well, as it should. There is a decent amount of drama to wrap up here, and no one wants to wait to find out how it all will unfold. We learn the backstory of Lady Arkham, though aside from her concussion staff, she feels a bit shallow as far as batman villains go. We sift through Penguin's meddlings at Wayne Enterprises, though he doesn't quite feel like the persona of the Penguin yet. My choices kept Selina Kyle somewhat on a friendly path, so I didn't have to fight with her too much. Though it makes me wonder how effective she was as a character here. Or was she more of a romantic distraction.
Harvey Dent
For my playthrough, I pissed of Harvey Dent. As a result, he decides not just to attack Bruce Wayne, he burns Wayne Manor. A bit later, he is back at Wayne Manor, this time with hostages. He will kill them one-at-a-time until Bruce shows up. If Batman shows up, he'll kill them all. Whether you are compassionate or brutal to dear ol' Dent is up to you. I will leave it up to your imagination as to how I treated the Mayor of Gotham.
Bat Identity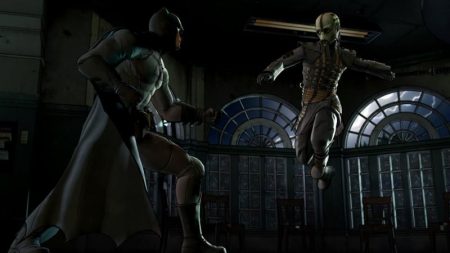 During the battle with Lady Arkham, you are presented with a dilemma we have all seen Batman face at one time or another. Will he remove the cowl, exposing his identity for the sake of saving an innocent? How many, or how few, has he ever shared this information with. No matter how you respond to this inquiry, you know the stakes are high. Time will tell, if it is worth it.
Gordon and Gotham
Acting Commisioner James Gordon has gone public asking for an all-hands-on-deck presentation after he takes on the interim position leading the GCPD. He is looking for all of Gotham's elite to be in attendance. To show the city that there still is hope, moving forward. Who will attend this presentation, and how will if affect the story, if we are presented with season 2?
John Doe
It's gonna be tough to top that! But, I'll give it a shot…
'John Doe' only appears for a moment in episode 5, but even that much is enough to tell us there is more trouble brewing in Gotham. Everyone expected this persona to appear. What was unexpected though, was the where and how. And moving forward, how it will unfold, and did you make an arrangement with them.
Impressions
Personally, I thought the story that Telltale presented us with was a delight. I may even go back and make different choices, and see how my season ends. At times it feels like they are trying incredibly hard to squeeze a lot into such a small window of opportunity. However, with Gotham being as it is, and so many storylines intertwining, it does not feel out of place. While the story sometimes feels like it wanders, things are brought home in the finale. We get one last glimpse of our friend from Arkham. His latest location and personality have changed. This leaves things quite open-ended. We will have to wait and see what Telltale and DC have in store…
Batman The Telltale Series: City of Light (Ep5) is available now.
Dark Knight's Depths
Plot - 75%
Writing - 85%
Art - 85%
Bruce Wayne has had quite a time dealing with the drama provided by Telltale. It is definately worth picking up, as you get to see several of your favorite baddies in a different light.