Another awesome wave of Spider-Man Legends figures are up for pre-order.
Build-a-Sandman with the newest wave of Spidey Legends
Announced earlier this year, Hasbro's latest Marvel Legends wave is pretty freaking great. Not only do we get a new black-suited Spidey, but we get a few remakes for classic foes that are way overdue.
Chief among those is, of course, the Green Goblin. We got not one, but two Hobgoblins pretty recently, but Norman Osborne has been left off the roster till now. It looks like this figure might have been worth the wait though. Appearing in his classic costume, Gobby looks every bit the arch-foe that he is.
He's not alone in this wave though, as we also get a new Shocker and a build-a-figure of Sandman. Shocker looks great, and Sandy seems freaking awesome. Being that he's a BAF too, he's going to be in a larger scale, which is also great. I know there was a Marvel Legends Sandman years back, but I'm pretty sure he was standard 6″ in scale. So the jumbo-sized one is a nice addition to the line.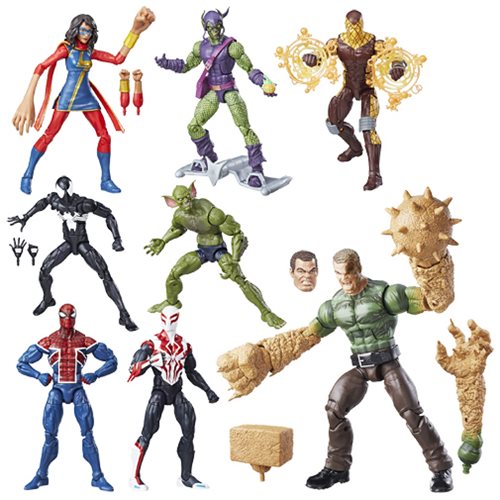 We also get a Jackal in this wave, which I'm pretty sure marks the first time that the clone-happy baddie appears in plastic. Likewise, we get a figure of the new Ms. Marvel, which is pretty awesome as well.
Unfortunately, All-New Spider-Man 2099 and Spider UK are in the wave too. I know there are some fans for these guys out there, but I certainly don't care for 'em. Well, I am a fan of Spidey 2099, just not of the 'All-New' costume. Blah.
Anyway, the set's a winner just for the villains, Ms. Marvel, and the new symbiote-Spidey. A pair of duds (for me anyway) certainly don't ruin it. And besides, you need all the figures to build Sandman, and he certainly seems to be worth the cash.
You can pre-order the whole set right here on Entertainment Earth. Look for it to hit some time in January.