Tron might not be the first thing that you think of when you think of GTA Online. As of this latest update though, it probably could be.
Welcome to the Grid
Rockstar has done some awesome stuff with Grand Theft Auto's online component since launch a few years back. And things just keep on getting better too. Case in point: The Nagasaki Shotaro motorcycle and new Adversary Mode, Deadline.
So with this, we basically have a little version of Tron's lightcycle battles within GTA Online. While you can drive the Shotaro around in the open-world version of the game, the Deadline mode is totally a trip to the Grid.
The cycle even makes a light-trail that blows your opponent away if they touch it! I mean, yeah that's just awesome.
Deadline pits up to four players against another, each mounted on a different colored Shotaro, which emits a temporary light trail as you ride through the arena. Any competitor unfortunate enough to come in contact with said trail meets an instant explosion. Make calculated movements to force opponents to cross your trail's path and take advantage of strategic power-ups for a competitive edge; use Boost to speed ahead and cut off your opponents, slow down time with Zoned for precision movement, or leap your opponent's light trail with Hop. Step in the arena now and earn Double GTA$ and RP through November 21st.
The update took place as of yesterday, so all of the above is live and ready to be played. There is more to come though. There are unlocks and bonuses aplenty to be had for in-game stuff, and a new race called 'Over the Bridge'.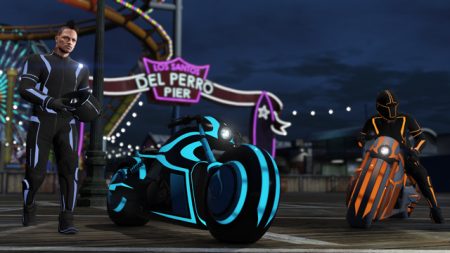 Scroll down for the full description
UNLOCKABLE IN-GAME T-SHIRT & BONUSES

Feeling a sense of pride after picking up your latest mode of transport? Show your colors and shine bright in the Nagasaki Logo Tee, free with any Nagasaki Shotaro purchase.

In addition to the Double GTA$ and RP in Deadline, get a boost to your Biker Business with 25% off Business supplies and resupplies plus an extra 50% GTA$ and Double RP from Biker Business Sales. Plus, take advantage of discounted weapons and tactical vehicles listed below from now through the 21st.

Properties

Vehicles

Karin Technical – 25% (Heist completion requirement waived)
Savage – 25% (Heist completion requirement waived)
MTL Brickade – 50%

Weaponry

Bullet Ammo – 25%
Throwables and Explosives – 25%
Body Armor – 25%
Drum & Box Magazines – 25%

PREMIUM RACE: OVER THE BRIDGE (NOVEMBER 8TH – 21ST) 

Suit up and put that crotch rocket to work across the La Puerta Freeway and Los Santos' docklands in the "Over the Bridge" Stunt Race, locked to Bikes. As always, it's Triple RP to all whom participate with generous GTA$ prizes for the top three finishers.