The major toy release for the upcoming movie, Hasbro's massive Imperial AT-ACT is on the way.
Rogue One features a new kind of Walker
By 'Walker' I don't mean zombies. I'm talking about the gigantic, metallic variety that are piloted by the Empire's finest.
In the films, we've seen AT-AT's in action twice. Once was on the forest moon of Endor, though there one was just kind of walking around. It was in the previous film, on the frozen wastes of Hoth, that we saw what these monsters were really capable of.
We're about to see them again too… well, sort of. The Walkers in Rogue One: A Star Wars Story aren't AT-AT's really, but AT-ACT's. What's that mean? Well it means they're a little different, and serve a (technically) different purpose in the Star Wars universe's fiction.
Bottom line, they look pretty freaking cool. And so does the toy from Hasbro.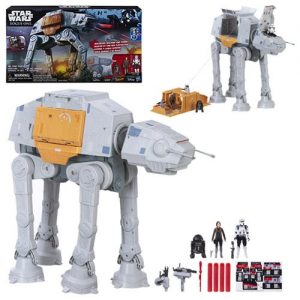 Big and bad
Easily the biggest toy in the new series of Rogue One figures and vehicles from Hasbro, the AT-ACT is pretty great looking. It's also pretty big looking. I guess, anyway, as the only definite what we know is that it's in the 3.75″ scale.
There are no detail for size in the official listing, but it looks similar to the Walker that hit retail a few years back. If you remember that one, it was something like twice the size of the classic Walker from the 80s. And it was uber-detailed too, with even an included speeder bike. Still, it's hard to tell from the image and I'm going to say to be cautious, just in case. So you might want to assume that it's in the smaller scale.
This new one has no bike either, but it does have three figures and a removable cargo bay. The bay apparently folds out into a small playset, which is a nice little bonus. Oh, and the Walker is remote controlled too. Did I mention that?
Yep, you can use an app on your phone to make this sucker actually stomp across your home/yard/whatever. Seems pretty awesome honestly. If you agree, then you might also be thinking that the AT-ACT is pretty expensive. Guess what? You're right.
Features don't come cheap
This big guy is $299.99 USD. Yes, you read right, and yes that's a lot 'o' dough. It does seem pretty awesome though, and if you're a big enough Star Wars fan… Well if you're a big enough Star Wars fan, it might be worth it to you.
Hit the link below to find out more, or to order one for yourself from our pals at Entertainment Earth. The AT-ACT drops next month.
Star Wars Rogue One 

AT

–

ACT

 Vehicle
Coming in December 2016

 (details)
Pre-Order now and we'll deliver in December 2016 (estimated date / subject to change).


Item Number: HSB7076




Really Cool Expensive Stuff

Price: $299.99