Diamond Select's classic Ghostbusters line is expanded yet again, and Ant Man makes a big/small splash in stores this week.
Who you gonna call?
Wave 3 of DST's Ghostbusters Select action figures. Who else did you think I was talking about? Ant-Man maybe? Well, if you've got a super-villain skulking about, maybe he'd be a good choice. For spooks, specters, and ghosts though, the boys in gray are your best bet.
This week, DST's excellent line dedicated to the original Ghostbusters movies expanded with a new version of Ray Stantz, Quittin' Time Ray. He's not alone though, because a pair of long-awaited figures joined him on the shelves in Janine and Slimer.
Yep, not content to make him/it as a pack-in or sidekick character, DST has gone all-out and produced a full-on Slimer figure. And quite frankly, he's pretty damn awesome. Loaded up with a pair of alt faces, so you can change up his looks as you see fit. He's also got a stand that'll pop onto the completed rooftop diorama, so he can free-float in your display.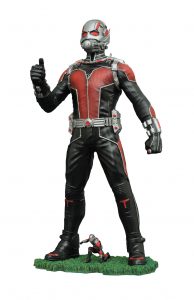 Janine is no slouch either, with a phone (natch'), take out containers, and -of course- that famous button to ring the firehouse's alarm. We got one, and all that. Oh yeah, and unlike Slimer, she's got a piece of the rooftop packed in as well.
As for that Avenger I mentioned, Ant Man is looming large as a PVC figure this week. The 9″ tall figure is a part of the new Gallery line from the company. He'll fit right in with the Femme Fatales series as well, and is sculpted with his thumb on his suit's shrinking-trigger. Making him even cooler? There's a little crouched version of Ant Man on the base, so this is really a sculpt of him in action, shrinking down.
All of the above should be in stores as of right now, so go get 'em.
Official descriptions? Yep, we've got those too
Ghostbusters Movie Select 7" Action Figures Series 3 Asst.
A Diamond Select Toys release! The hugely popular Ghostbusters Select action figure series continues with three new figures, and three more pieces of the colossal rooftop diorama! Slimer, Janine and Quittin' Time Ray make up Series 3, and each comes with bonus accessories in addition to their diorama piece: Janine includes a phone, alarm button and take-out containers; Slimer comes with two alternate faces and a support stand that can plug into the rooftop; and Quittin' Time Ray includes goggles, a walkie-talkie, and a variety of interchangeable gloved and ungloved hands, as well as all-new sculpting and paint details to reflect his appearance at the end of a long shift. Each 7-inch scale action figure features up to 16 points of articulation, and comes packaged in display-ready Select figure packaging. Collecting all 15 figures in the series allows you to build the full rooftop temple scene fromGhostbusters! Series 1 and 2 available now! Sculpted by Gentle Giant! (Item #MAY162380, SRP: $24.99/ea.)
http://www.diamondselecttoys.com/ghostbusters-movie-select-action-figures-series-3-asst
Marvel Gallery Ant-Man Movie 9" PVC Figure
A Diamond Select Toys release! Things are about to get weird! Ant-Man was last year's breakout superhero, and this PVC figure of Ant-Man is the first movie-based figure in our new Marvel Gallery line! Cast in high-grade plastic with detailed paint applications, Ant-Man stands 9 inches tall, with his thumb on the shrinking trigger, and also crouches low in his shrunken form on the figure's base. Figure is in scale to all Gallery and Femme Fatales PVC figures, and comes packaged in a full-color window box. Sculpted by Gentle Giant! (Item #APR162613, SRP: $45.00)
http://www.diamondselecttoys.com/marvel-gallery-ant-man-movie-9-pvc-figure