The first mobile game featuring Nintendo's premier mascot is on the way. And we've got screens and info on Super Mario Run.
It's-a me, Mario… on-a iOS!
If you read our rundown on the Apple event yesterday (or watched it live), then you already know a few things about the short-term future. Number one, there's a new pair of iPhones. And number two, Nintendo is now totally down with mobile gaming. What a difference a few years make, no?
It wasn't all that long ago that Nintendo, then under the leadership of the late Satoru Iwata, pretty much crapped on the idea of a presence in the mobile space. Though gamers and fans were specifically asking for it, it didn't seem like it was going to happen. And now? Now we've got Pokemon Go, which has taken over the world, and Super Mario Run. No, I didn't forget something. I've never heard of this 'Miitomo' that you speak of, so let's get back to Mario.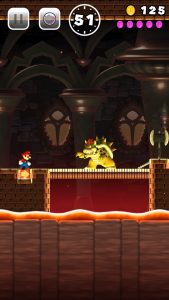 The plumber's first foray onto mobile handsets will come in the form of an iOS platformer. And it's a game unlike what you've seen from the character before. Namely, it's a 'one button' experience, which basically means that you press the screen to make Mario jump. He moves forward on his own, so there are no directional controls.
Shigeru Miyamoto himself had the lowdown:
"We have created  Super Mario Run to be perfect for playing on your iPhone," said Mr. Miyamoto  ,  who first devised the Mario character more than 35 years ago. "Super Mario has evolved whenever he has encountered a new platform, and for the first time ever, players will be able to enjoy a full-fledged Super Mario game with just one hand, giving them the freedom to play while riding the subway or my favorite, eating a hamburger."
And really, who hasn't wanted to play Super Mario while eating a hamburger? I know I have…
Nintendo mobile, present and future
Other than the lack of direct control, the game looks like it will offer everything else that you'd expect. The standard mode will have you collecting coins and racing to the end of courses. Apparently there's a mode too, where gamers will "competes against the acrobatic moves of other people who have completed the same course". That could add an interesting wrinkle. And apparently you can even create your "own Mushroom Kingdom" based on the result of play. As a bit of a Mario super-fan myself, I'm pretty interested in that.
Nintendo's mobile gaming involvement doesn't stop there either. They'll be working with developer DeNA for Super Mario Run, and will be bringing Animal Crossing and Fire Emblem to Apple's platform as well. Look for those games to arrive before the end of March, 2017.
You'll be playing Super Mario Run way before that though, as the game will arrive just in time for the Holidays, this December. Apple even has a 'heads up' that you can sign up for on the App Store, to let you know when the game finally hits for the iPad and iPhone.
Think Nintendo teaming with them is kind of a big deal?