Dark Horse hit Comic Con with their usual impressive assortment of statues and collectibles.
Fantasy reigns at Dark Horse
When you think about it, Dark Horse has sort of become a force in the collectible world over the last few years. They're quiet about it for sure, but the company has made some pretty impressive stuff.
Right there in their crown jewels of course is Game of Thrones. The statue line that they've been cranking away at is loaded up with detail and has really become a signature for them. Not only that, but they're big with collectors.
Backing up GoT is The Witcher. One of the biggest and best games of 2015, The Witcher III: Wild Hunt now has a line of items from Dark Horse as well. It's a line that includes both busts and statues, one of which is probably the coolest Geralt you're likely to see anywhere.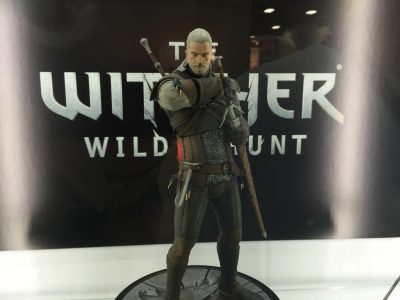 Also in the fantasy realm, though with  completely different tone, is Legend of Zelda. The long-running Nintendo property is well-represented by a few key pieces, and of course – the Hyrule Historia book.
A little less fantasy is Outlander. The line is a new one for the publisher, based on the relatively young TV show of the same name.
And a pinch of one of the biggest sci-fi franchises for good measure
Going much less fantasy and a lot more sci-fi would be Halo. Still going strong at Dark Horse, the Halo franchise has an expansion with some new starships. And of course all of them are based on the iconic craft from the games/comics. If you're looking for something awesome to make its home on your desktop, you can't do much better.
All of the above is represented in the gallery below, so get to scrolling.