Injustice 2 is the upcoming fighting game from Netherealm studios, the makers of Mortal Kombat. Fans have been wondering who the next superheroes or supervillains will be next for the roster. Turns out another two characters will be announced at San Diego Comic-Con.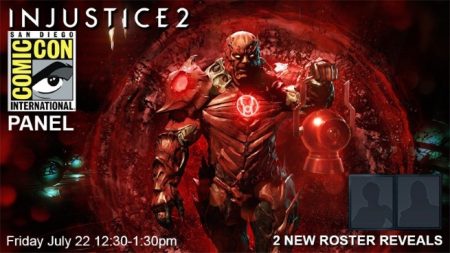 On twitter, Ed Boon spoke saying:
"Come see our Injustice 2 panel @ SD ComicCon Friday July 22 with 2 more character reveals! comiccon2016.sched.org/event/7fn2"
As mentioned, the panel will occur on 22nd July, 12:30 p.m. PDT. Ed Boon will be joined with a few special guests such as writer Tom Taylor. Also, voice actors; Laura Bailey (Supergirl), Phil LaMarr (Aquaman) and George Newbern (Superman) will be joining the panel. Such a panel can be very interesting as there may be some discussion on the story of Injustice 2. In addition, more explanation will be provided on the 'gear system'. This 'gear system' will change the characters stats depending on the clothing/ accessories chose. For our thoughts on the 'gear system' you can check out this post here.
Who these two characters are is up to anyone's guess. Fans are thinking that one of the potential characters will be the Flash. This is rather likely as he was one of the core stars for the cinematic trailer. For him not to be revealed soon would be rather weird. The other potential character to be revealed at San Diego Comic-Con is Wonder Woman. At the current time, only Supergirl is the sole female superhero so another female character would be a welcomed addition.
Injustice 2 is set to be released in 2017 for both PS4 and Xbox One.