Vinyl figures just got a little more badass, and much bigger headed, with J!nx' new Witcher 3 vinyl figure.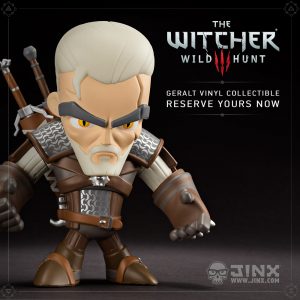 Obviously from the exaggerated and cartoony variety of vinyl figures, Geralt here is nonetheless pretty awesome. There are't a hell of figures based on the character either, so this one's extra-cool right off the bat. And Geralt isn't just a stiff and still, non-poseable figure either. Unlike the great bulk of vinyl figures out there, he's got multiple points of articulation.
He'll need them too, as he's got two removable swords (his staple weapons) that he can brandish as he seeks the things that go bump in the night and journeys across your desktop (or your game shelf, or whatever). He'll cut quite the figure too (no pun intended), as he'll stand a chunky 6.7″ tall and 6.3″ wide. That's pretty impressive for this kind of figure, as they're usually of somewhat smaller dimensions (Funko's Pop! line notwithstanding).
Want to add J!nx' first Witcher 3 vinyl to your collection? You won't have long to wait, as he's scheduled to ship out to retail on July 8th. You can pre-order one for yourself right now though, on either J!nx site or on the WitcherStore.com.