Simultaneous dice rolls are only one of the new things hitting Mario Party when Star Rush releases on November 4th.
 [embedyt] http://www.youtube.com/watch?v=MEX7BfZpad8[/embedyt]
The Zelda focuses E3 didn't skimp on showing off other games for Nintendo's consoles this year.  Among them: the latest in the Mario Party franchise, Star Rush.  The 3DS title is focused as ever on multiplayer mayhem, supporting both wireless, multi-cart play and DS Download Play.  While there is no word yet on Online Play, people near their friends will have a lot to look forward to.
Mario Party: Star Rush's Maps are designed now to allow players to roll their dice simultaneously, a change which greatly speeds the pace of board progression and the game at large- a welcome change for gaming on the go.  No longer do you watch and wait as your friend contemplates his next move: you'll make your move together.  Unlike previous recent Mario Party games, this doesn't mean you'll be locked to the same vehicle: everyone moves their Toad separately.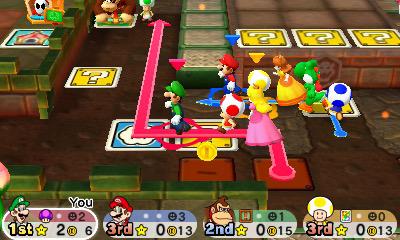 Those looking to pick from the wider array of Mario characters may be disappointed to hear that every player plays as Toad, collecting the echelon of famous plumbers as allies instead.  These NPC allies give aide in boss-fights, which spawn around the map and make the new crux of mini-games (at least for the mode shown off during Nintendo's Treehouse event).  These boss battles will feel familiar to those who've played the thousands of party games that have spanned the series: they're quick, and place the players in an arena where the focus is much more on beating each other than it is on sinking the boss.
The maps no longer follow mazes of lines, but instead are more like grid-based arenas themselves, allowing players to head off in any direction as they hunt down items to hurt each other or coin balloons to instigate mini-games.  Players who land on the same space can do battle (i.e. roll the dice) to steal allies.  Like the Mario Party you remember, you'll seek ways to ruin each other's days on the board and in the mini games.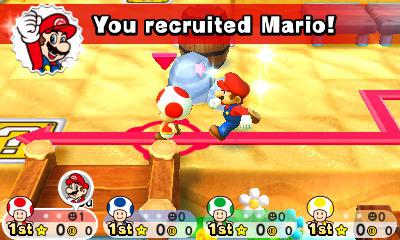 Mario Party: Star Rush, which will launch for 3DS on November 4, 2016, will support the new line of Mario amiibo, which launch the same day.  Just what those amiibo will do in the game, and the extent to which other modes are featured, has yet to be revealed.  Here's hoping the change-ups in the formula can help Mario Party find its footing again.  For more information, check out Nintendo Treehouse's extended footage.