With Street Fighter V fleshing out its content every month, June sees the biggest update yet to the title. The big June update will provide the long awaited cinematic story mode and the returning fighter Ibuki. Best of all, both are completely free*.
*Ibuki can be unlocked for free via the in-game currency of fight money.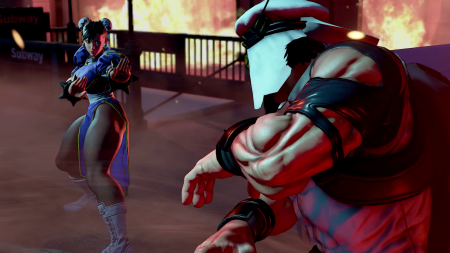 The cinematic story mode will provide players to dive into the Street Fighter universe, in a fleshed out narrative. This is a first for the series as other titles had short character story endings after beating the main arcade mode. Named "A Shadow Falls", it is up to the world warriors to stand up and fight against the evil organisation of Shadoloo. The story is split up into five chapters, bolstering a 3-4 hour experience. Interestingly enough, there are small previews for the upcoming, later released, DLC characters within the mode. The DLC fighters such as Balrog, Urien, Juri etc. will be playable at certain points within the story. By having these characters playable provides taste of what's to come in the future. By playing the story, players will be awarded fight money to which can be used to purchase in-game items such as characters, costumes, and colours.
Along with the cinematic story, Ibuki will be making her return this month. Retaining some of her old moves as well as some new ones. She's looking like a tricky fighter to go up against. All DLC characters like Ibuki, Alex, and future fighters will cost 100,000 in-game fight money or $5.99 each. In addition, premium battle costumes will also feature for all the available fighters. However, these premium costumes can only be purchased with real money.
Street Fighter V's big June update is said to be released later this month for PS4 and PC.