Vampiric saga The Strain is coming back to Dark Horse Comics, and will tell the origin of the enigmatic Mr. Quinlan.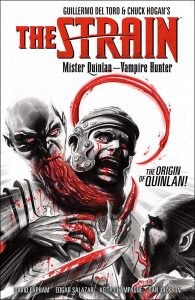 From David Lapham and Edgar Salazar, The Strain: Mister Quinlan—Vampire Hunter tells the brutal origin story of one of the biggest fan-favorite characters in the Strain saga. And it goes back, way back, in history to do it.
It's ancient Rome, and Quinlan is on a mission:
A vampiric abomination seeks to destroy the monster that sired him. Born as a mistake of a powerful vampire known as the Master and raised in the brutal gladiatorial arenas of ancient Rome, Mr. Quinlan must survive long enough to carry out his mission when his target begins hunting him.
Mistakes do come back to haunt you, don't they? That's something that we've definitely seen over the five-year run of The Strain. With a total of six volumes in the book (literally), the vampiric horror book is still going strong.
The property is entering its third season on Fox' FX television network this Summer, and remains a favorite of horror fans. So does the uber-badass Quinlan, hence the new miniseries.
The book will run a total of five issues and kicks off on September 14th. Yep, pre-orders are available right this second. Click here to find your nearest shop.