Halo, DC Comics, Ghostbusters, He-Man, Thundercats, and maybe the most unexpected WWE figure ever all will be ready for SDCC pre-order soon.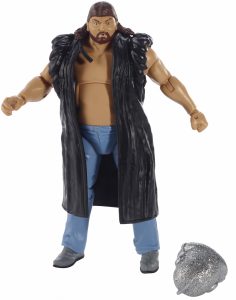 Heading to SDCC? Then you're probably prepping to snag as many of the show's fabled exclusive items as possible. Like no other, the San Diego Comic Con is laden with exclusive items that you can get nowhere else. Some of these items are of the variant variety, with standard editions hitting the web and real-world stores after the con closes, while others are wholly new.
For Mattel's selection this year, there's a whole lot of the latter. And the highlight of all of them might be a WWE figure that you probably thought you'd never see in a million years.
Yep, it's the Shockmaster. The WCW Superstar who's big debut was so ridiculously flubbed that it resulted in one of the most legendary screw-ups in wrestling history. Shockmaster was, of course, Typhoon/Tugboat from the WWE (then WWF), who had switched over to the competition and plopped a glittery Stormtrooper helmet on his noggin.
Since he couldn't keep either of the WWE-trademarked names, he was dubbed Shockmaster, and the rest is comedic history. Even now, years later, it's remarkably cringe-worthy.
And now, thanks to the magic of SDCC and Mattel/Mattycollector, you can add him to your WWE action figure collection… glittery helm and all.
But he's very far from being the only awesome thing that Mattel will host when the Mattycollector.com pre-sale goes live this June the 17th, as there's a little something for almost every kind of fan. There's some neat TMNT stuff to be had, a cool He-Man/Minecraft mashup figure, a light-up Ghostbusters set, some exclusive Suicide Squad and Thundercats figures, and what I think might be the first offering in the company's new Halo series.
All you need to do to dig in is to hit Mattycollector.com on the 17th, and place your pre-orders. Just remember that you'll have to actually show up at the con to actually pick up your stuff.
Here's the rundown of what'll be available (pics are after the list):
BARBIE® AMAZON PRINCESS WONDER WOMANTM DOLL
SRP: $80 Available: Online
As befitting of the daughter of Zeus, Wonder Woman makes her appearance in Batman v Superman: Dawn of Justice and this Justice League member proves she's battle ready! Inspired by the costume worn in the movie, Wonder Woman Barbie® doll is cloaked in a royal blue hooded cape lined with gold lamé and worn over her bold red bustier and royal blue paneled skirt. She also wears her signature golden tiara, bulletproof bracelets and golden lasso. Standing heroically atop a "rocky" ledge brandishing a sword and shield, she is the portrait of a true Amazonian Warrior Princess.
MONSTER HIGH® GHOSTBUSTERS FRANKIE STEIN® DOLL
SRP: $25 Available: Online
Frankie Stein® straps on her proton pack and GhostbusterTM skills in this spooktacular SDCC '16 exclusive mash-up. Catch yours before it gets slimed!
MONSTER HIGH® ROBECCA STEAMTM & HEXICIAH STEAMTM DOLLS
SRP: $40 Available: Onsite
Get ready for this riveting steampunk two-pack from Monster High® ! Robecca SteamTM and her father Hexiciah SteamTM bring their analog style to the digital age in with their uhhh-mazingly detailed steampunk fashions and scary cool accessories.
EVER AFTER HIGH® CEDAR WOODTM EXCLUSIVE MARIONETTE DOLL
SRP: $30 Available: Online
The stage is set for this year's truly captivating Ever After High® SDCC '16 exclusive.
GHOSTBUSTERSTM LIGHTS & SOUNDS MULTI-PACK
SRP: $24.99 Available: Onsite
Ghostbusters is back with an all new, paranormal team and spooky cool ghosts. Now with the GHOSTBUSTERSTM Lights & Sounds Multi-Pack, you can join the fight. Battle alongside four 1.5" ghost busters mini figures who are armed and ready! Proton beams fire from their blasters as they try to take down the evil 6" Rowan figure, the giant ghost from the film. Press the button outside the box to launch a light and sound show of blue glowing proton beams as Rowan turns red and screams in rage! Press it again, and you'll hear the iconic "Who you gonna call" GhostbustersTM theme song as the lights bounce to the beat of the music. Packaging features slime graphics and the iconic GhostbustersTM logo. Set also includes 3 AA batteries. It's a multi-sensory interactive experience that real Ghostbusters fans and collectors will love!
THOMAS & FRIENDSTM/DC SUPER FRIENDSTM MINIS
SRP: $19.99 Available: Online
When trouble threatens, it's up to the greatest heroes of all to save the day! Springing into action are Thomas as SupermanTM and Diesel as BatmanTM. This Thomas & FriendsTM/DC Super FriendsTM MINIS item for San Diego Comic Con 2016 features amazing transformations when Thomas asClark KentTM and Diesel as Bruce WayneTM become their super heroic alter egos. Thrilling comic strip stories built into the package provide the reason for the heroes to shed their secret identities and don their familiar disguises. This highly collectible item follows on the heels of 2015's popular San Diego Comic Con Thomas & FriendsTM/DC Super FriendsTM MINIS item and delivers the same action-packed, pop art fun in premium packaging, plus an exciting new feature that's sure to thrill!
DISNEY PIXAR CARS PRECISION SERIES DIE-CAST DIRT TRACK FABULOUS
HUDSON HORNET VEHICLE
SRP: $25 Available: Onsite
Enhance your collection of Disney -CoPnixar Cars characters with this Comic exclusive: a premium, true-to-movie Dirt Track Fabulous Hudson Hornet die-cast!
This highly detailed 1:55 scale replica of the classic 1950s vehicle brings to life Doc Hudson as the Fabulous Hudson Hornet at the peak of his racing career.
HE-MAN AND THE MASTERS OF THE UNIVERSE® SHE-RATM
SRP: $75 Available: Super 7
Relive the glamorous, commanding adventures of She-Ra®, Princess of Power® with this 11" highly detailed action figure. The Most Powerful Woman in the Universe® features 24 points of articulation, rooted hair, 3 iconic fashions, 2 swords, signature shield, 6 interchangeable hands, a logoed stand, a 12-page mini comic: "The Story of She-Ra", and a beautiful keepsake box with vivid imagery from the enchanting world of Eternia®! Wage epic battle with She-Ra® against The Evil Horde® for the honor of GrayskullTM!
DC COMICSTM MULTIVERSE SUICIDE SQUADTM THE JOKER AND PANDA 2 PACK
SRP: $40 Available: Onsite
This Comic Con exclusive includes 2 6-inch figures—The JokerTM and Panda Man. Both are highly articulated reproductions from the movie. Panda Man features flocking on his body and a riffle accessory. A Bat Mask is included in the window box display package.
HOT WHEELS DC HARLEY QUINN SUICIDE SQUAD
SRP: $25 Available:Onsite
She's everyone's favorite psychotic villain. When Harley Quinn joins the Suicide Squad, you learn to expect the unexpected. Celebrate the Suicide Squad film with this first edition Hot Wheels Harley Quinn character car featuring a full die-cast body and chassis and Real Riders® wheels. Housed in a special package that suspends the captured car in an Arkham Asylum cell, it sports tattoos that read "Daddy's Lil Monster" and "Property of Joker" – and you know that can't be good.
HOT WHEELS® MARVEL DAREDEVIL VS. PUNISHER
SRP: $30 Available: Onsite
Hell's Kitchen. It's New York City's boiling pot for trouble – but it's Daredevil's beat. When The Punisher comes in with his "destroy 'em all" approach, things get even hotter. This San Diego Comic-Con set commemorates that heroic clash with two premium edition Hot Wheels® character cars: Daredevil and The Punisher. Sealed in a protective acrylic case, the cars feature Real Riders® wheels and are perched on top of an NYC building with a 3D city skyline backdrop. With the press of a button, the building's window lights up, flashing from red to white, to reveal a glimpse of Daredevil's battle with The Punisher inside. The packaging art was created by comic book illustrator Alex Maleev!
HOT WHEELS® STAR TREK® BUICK RIVIERA VEHICLE
SRP: $20 Available: Online
When the Star Trek series first blasted off into the stratosphere, the soon-to-be- famous actor who made Mr. Spock one of TV's best known sci-fi characters rewarded himself by becoming the proud owner of a stellar '64 Buick Riviera. So proud, in fact, that he posed for an iconic photo while dressed in full Starfleet uniform with his car on the back lot of the TV studio. Hot Wheels® proudly pays tribute to the 50th Anniversary of Star Trek with this 3D diorama featuring a beautiful Hot Wheels® edition of the Riviera in a full die-cast body and chassis, with Real Riders® wheels and a Mr. Spock figurine. It's a highly logical way to honor the milestone and the actor.
DC SUPER HERO GIRLS KATANA ACTION DOLL
SRP: $40 Available: Onsite
Step out on the cutting edge with DC Super Hero Girls Katana doll! This DC Super Hero Girls doll is inspired by the sword master of Super Hero High and ready for powerful fun. Designed in 12-inch scale, Katana doll comes with five iconic accessories that showcase her martial arts skills — including her beloved sword. Three different left hands — easily interchangeable — allow her to hold the various weapons. Pose Katana doll with her iconic katana or choose from the four shuriken, the two sai, a sheathed tanto and a naginata. True to her fashionable flair, Katana doll's outfit blends samurai and style for a powerful, action-ready look. Save the day with Katana doll and unleash your power!
KUBROS TEENAGE MUTANT NINJA TURTLES – LEONARDOTM VS. BEBOPTM SPECIAL EDITION SET
SRP: $25 Available: Onsite
It's an 8-Bit take on a mutant showdown when you build your own LeonardoTM and BebopTM figures and pit them against each other in a battle of mean vs. green. With a blocky, retro-fied design inspired by the era of classic gaming, these collectible characters bring it back to the old school with iconic details drawn from the original 1987 series. Both figures feature the signature Kubros coin detail and arms and head that move, and come packaged together in an exclusive SDCC box with deluxe TMNT art that Turtle super-fans will love!
KUBROS TEENAGE MUTANT NINJA TURTLES – MICHELANGELOTM VS. ROCKSTEADYTM SPECIAL EDITION SET
SRP: $25 Available: Onsite
It's an 8-Bit take on a mutant showdown when you build your own MichelangeloTM and RocksteadyTM figures and pit them against each other in a battle of mean vs. green. With a blocky, retro-fied design inspired by the era of classic gaming, these collectible characters bring it back to the old school with iconic details drawn from the original 1987 series. Both figures feature the signature Kubros coin detail and arms and head that move, and come packaged together in an exclusive SDCC box with deluxe TMNT art that Turtle super-fans will love!
WWE® ELITE FIGURE SHOCKMASTERTM LIMITED EDITION
SRP: $30 Available: Onsite
Die-hard WWE® fans will enjoy the ultimate tribute to WWE® Superstars with this elite 6-inch ShockmasterTM figure. Featuring fierce attention to detail, this figure captures the authenticity of Shockmaster. This figure is packaged in a unique way to recreate Shockmaster's epic fall during his WCW television debut. He also comes with his iconic robe that was intended to enhance his first ever WCW appearance. Now WWE® fans have a chance to celebrate one of sports entertainment's most talked about Superstars. Colors and decorations may vary.
HALO® SPARTAN HELIOSKRILL
SRP: $25 Available: Onsite
Mattel's new 6" action figure series brings the world of HALO® to life with an iconic line of UNSC Spartans and Covenant forces! This collector's grade Spartan Helioskrill figure is designed with extreme detail and includes iconic accessories, removable armor, and 30 points of articulation for a highly poseable form. This figure includes a fully interchangeable, mix-and-match armor suit and 2 accessories so you can customize your figure with others in the full line. For San Diego Comic-Con only, figure comes with exclusive blue visor, exclusive armor decoration, and exclusive legendary MA5 "bracer skin." Build your collection and create epic, larger-than-life HALO® battles from the highly-acclaimed franchise from Microsoft Studios and 343 Industries. Authentic, game-inspired designs and details are sure to thrill both casual fans and avid collectors alike! Specially designed packaging, just for Comic-Con. Colors and decorations may vary.
THUNDERCATSTM WILY KIT & WILY KATTM
SRP: $60 Available: Super 7
Recreate the exciting adventures of the twin ThunderCatsTM on Third Earth! This authentic two-pack includes richly detailed 4" inch figures of Wilykit and Wilykat, their Space Boards and key weapon accessories. Each figure features 30+ points of articulation, deluxe sculpting, removable claws, lariats and one thunder attachment to battle mutants! Stand them on their articulating hover boards and put them on display! The ThunderKittens also come in dynamic keepsake packaging that depicts a colorful setting from the series. These mischievous, powerful Wilykit and Wilykat exclusive figures are must-have additions for adult collectors.
MINECRAFT SURVIVAL MODE PLAYER ONE
SRP: $15 Available: Onsite
Think you can survive the world of Minecraft? Well, now with your very own Survival Mode Player One figure, your chances have just increased exponentially. The Player One figure comes with an Enchanted Pickaxe and works with Minecraft's other Survival Mode figures (sold separately). And, you know when it comes to survival, it's important to be innovative, to be unique, to think "outside the box", so that's why we're giving you a customizable and creative way to make this figure jump right out of your Minecraft world. You get to craft the look of your unique Player One figure by using your actual skin from the game! We create and print a custom label based on your in-game skin and then you get to apply it however you want. We also have an exclusive set of SDCC skins that are only available at the show! Print it, stick it and you're ready to begin your journey into the world of Survival Mode!