Still going strong, EA's The Sims 4 is going out for an evening of fine dining.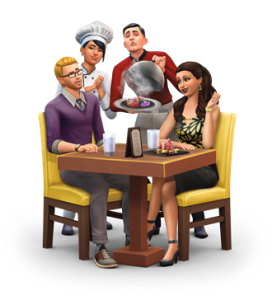 Expansion packs for The Sims have long been a staple of the franchise and The Sims 4 isn't done yet as now you can take your synthetic family out for a meal at a fine restaurant. And if that's not enough for you, you can even open an eatery of your own if you like, serving a wide variety of offerings.
"Experimental cuisine" is very much on the menu for The Sims Dine Out apparently, though setting the menu for your own restaurant is just the tip of the ice-sculpture for what you can do here. You'll also be able to hire staff (no word on whether or not that might include other Sims from your 'collection', evaluate your chef's skills, and even buy into a little advertising so you can turn a bigger profit. Pretty cool, all in all.
The pack is available right now via digital download on Origin, and can be yours to add onto your copy of the base game (The Sims 4) for $19.99 USD. Here's a full list of the features:
Creating or customizing unique restaurants, ranging from a classic diner to an upscale Italian bistro;
Owning and managing a restaurant, while hiring staff, setting the menu and prices, and chatting up diners to improve customer satisfaction;
Sending Sims out to enjoy a delicious meal while on a romantic date, spending quality time with family, or playing it solo;
Stepping outside your Sims' comfort zone with an assortment of new experimental cuisine that looks almost too good to eat!