The latest game from Deep Silver and Volition, Agents of MAYHEM seeks to expand on the Saints Row universe in a superhero-y kind of way.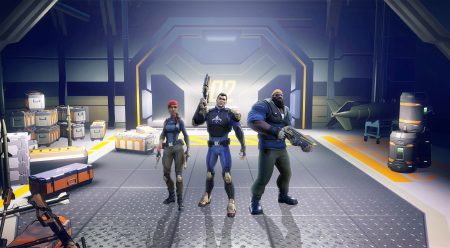 Much like SR, Agents of MAYHEM will have an open-world, third-person play style. Reportedly, it'll also be a part of the Saints Row universe, sharing "certain story elements, symbolism, and design inspiration with the multi-million selling franchise." There are more than a few fans of the SR series, so that's some very good news indeed. This spiritual successor won't be a direct spin-off though, as it'll have an all new story and new characters.
While mayhem is nothing new to players of the Saints Row franchise, in this case MAYHEM stands for Multinational Agency for Hunting Evil Masterminds. Their enemy? L.E.G.I.O.N., or the League of Evil Gentlemen Intent on Obliterating Nations, if you prefer.
Players will take on the role of an agent inducted into MAYHEM, to battle evil alongside their fellow super-agents assembled from around the world. Here's the story synopsis for what you den expect to see:
In a simultaneous global assault, LEGION has taken control over the nations of the world and the only force left to stop them is MAYHEM. Led by the mysterious and no-nonsense Persephone Brimstone, MAYHEM's elite Super Agents are called to the city of Seoul, South Korea. Led by LEGION Minister Doctor Babylon and his diabolical lieutenants, a nefarious plot is set in motion to build a world-altering device that will grant unrivaled power to the supervillain organization. In order to stop LEGION and take back the world, the Agents of Mayhem will traverse a sprawling urban battlefield from the ground to the rooftops and team up as a super-agent collective to stop LEGION at any cost.
Excited yet?
You can expect to see plenty more on Agents of MAYHEM in the months to come, and as we head towards the game's release some time in 2017. It'll be hitting for the PS4, Xbox One, and PC.