King of Fighters fans are in for a treat with some nice extras included in the Premium Edition of KoF XIV.
Among fighting games, I think it's safe to say that the KoF series has hit that magical, legendary status. The games mash together all of SNK's classic fighting game characters (and a bunch of new ones) into one storyline under one tournament to rule them all. For me anyway, it was up there with Street Fighter and Mortal Kombat for a while.
It kind of disappeared for a while there though, and didn't evolve with the rest of the fighting game world like the aforementioned franchises did. According to SNK and new publisher Atlus though, that's all changed this year with the release of the fourteenth game in the series, King of Fighters XIV adds in a bunch of new stuff, tweaks the gameplay, and upgrades the online experience. And to celebrate this new, updated KoF, there's a pretty awesome Premium Edition scheduled for release that should be a hit with fans.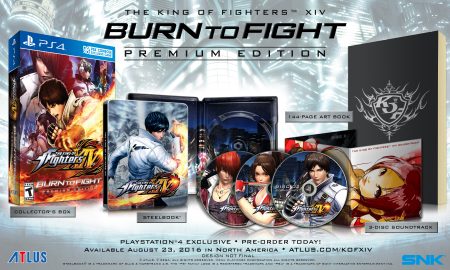 The 'Burn to Fight' Premium Edition includes:
SteelBook – The game disc will be encased in a collectible SteelBook emblazoned with the series' fiery mainstay, Kyo Kusanagi, literally burning to fight.
Art book – This 144-page art book will be filled with original character/stage drawings from throughout the series.
3-Disc Soundtrack – Those looking for an audio fix will be able to enjoy a three-disc soundtrack (housed in a gorgeous Mai Shiranui illustrated case) comprised of 60+ electric songs worthy of the greatest fighting tournament in the world.
Collector's Box – All the above items will be packaged in a scorching box adorned with familiar characters.
Like what you're seeing? KoF XIV is set for release on August 23rd for the PS4,