Including a statue of Gears 4's star J.D. on a slick looking motorcycle, the Collector's Edition of Gears of War 4 is all set for pre-ordering.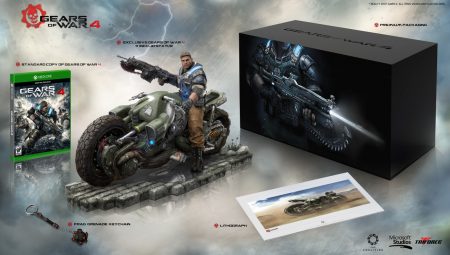 The majority of what and who Gears of War 4 revolves around might still be something of a mystery as we sit here, 6 months out from release, but we do at least know that the Collector's Edition of the game looks pretty nice. That'd be thanks to Project Triforce of course.
Hot off the release of the Doom CE, which included a piece of their work ( that light-up Revenant statue), Triforce has announced the retailer listings for the GoW4 CE. As you might imagine, there are more than a few places that you can pick it up. If you're a big fan of the franchise, then this $249.99 USD edition of the upcoming game will probably be one that you'll want to take a serious look at.
The box contains a copy of the game yes, but also the above-mentioned statue, plus a lithograph, keychain (frag out!), and more. Here's what's in the box:
JD Fenix on COG Bike Premium Statue with LED Effects!
Exclusive Lithograph
Frag Grenade Keychain
In Game Bonus Content: Includes 3 Gears Crates
Premium Packaging
And now for that 'availability', which is actually pretty interesting. The Ultimate Edition of Gears 4 is available pretty much everywhere (steelbook with Season Pass included), but the CE is only available at a limited number of retailers and excludes all but Amazon (which has a special variant available) in the US and Game in the UK. It's also set to have limited run, so if you're thinking about getting it, then you might want to pre-order now.
Here's where you can get one: