Snake! Snaaaaaaake!!! …Come on man, pick up, Metal Gear Solid V is the subject of the newest art book from Dark Horse Comics.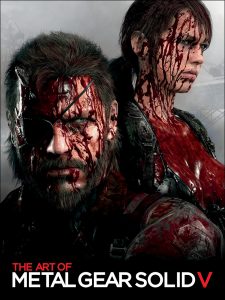 One of the most stylish and visually detailed games of 2015 is set to join the ranks of Dark Horse's library of art books with the release of The Art of Metal Gear Solid V. One not to be missed if you're an MGS fan, the book will delve into the "concept and design behind the genre-defining science-fiction military action and drama of Metal Gear Solid V: The Phantom Pain".
Created in cooperation with Konami, fans can expect to see the development of Metal Gear Solid V: The Phantom Pain laid bare. With a promised "hundreds" of pieces of art gracing its pages, the book will tell the story of how the game was put together, beginning to end. I've read a bunch of books in this style from the publisher, and can attest to the fantastic depths that Dark Horse goes to in making them. They're pretty great.
There'll be two versions for you choose from too, with both standard and limited editions en route. Depending on just how big an MGS fan you are too, you might want to order early to secure yourself one of the limited copies.
Limited to a run of only 400 copies, which is fairly low for something like this as far as I know, the LE will come with an exclusive art print by none other than Ashley Wood, one of the hottest names right now in not only comics, but also the toy collector market. Keeping everything together in the pack will be a "tactical slipcase" as well, so this puppy is probably going to look pretty wicked up on your library shelf.
The Art of Metal Gear Solid V lands on November 2nd of this year, and you can secure yourself a copy right now via Amazon, Barnes and Noble, or Indiebound.