Japan and Europe will see the title a little later: August 25th and September 2nd, respectively.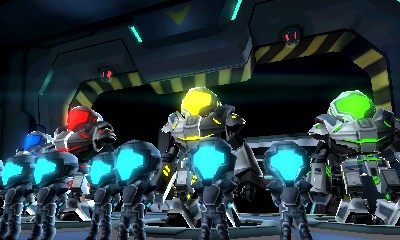 Metroid fans may have to continue waiting for the Metroid title of their dreams, but the wait is shorter for those looking for a co-operative title on the New 3DS. Metroid Prime: Federation Force is bringing its teamwork and Blast Ball to North America on August 19th, Japan on August 25th, and Europe on September 2nd.
While the outcry has been well-documented (see: everywhere), Federation Force's co-op should be loads of fun for people eager for team-building exercises. On the heels of The Legend of Zelda: Triforce Heroes (which was super fun, and came supporting a full suite of Download Play options), Federation Force continues the cooperative trend recent 3DS games have been taking. It remains to be seen exactly how far Download Play will run a group with only one copy of the game (or if it supports it at all).
The mid-late August release date gives Nintendo plenty of time to try and make one last case for those naysayers- as for whether they succeed, it currently looks unlikely.
But for those of us who will take polished and fun co-op in any form, August 19th can't come soon enough.