So what is a music video art book anyway? With Pearl Jam and IDW involved, at least you know it's gonna be interesting.
One of the biggest -bar none- musical acts of the 1990s, Pearl Jam is a world-renowned group. I doubt there's anyone who doesn't know the pioneering grunge rock group, or their front man, Eddie Vedder. A dude who's crossed more musical lines than just about anyone, both during and after the band's breakout period.
And now the whole group is crossing over into something else – comics. Well, not comics per say really, more like art books; graphic novel art books to be precise. Teaming with publisher IDW, Pearl Jam is about to bring their hit music video 'Do the Evolution' to the printed page.
Comic book maestro Todd McFarlane directed the video, which was was otherwise crafted by animator Kevin Altieri, who's also worked on the also-legendary Batman: The Animated Series. Basically, it's four minutes long and tells a "graphic and dark history of the world". That's the video itself though (which you can see above), the book is another matter all together.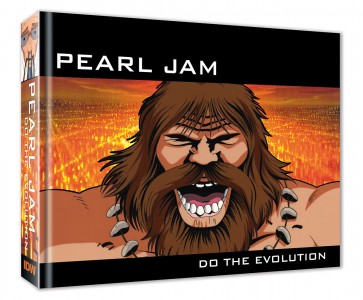 In the book, IDW and the above mentioned talent dissect the video, showing just how much blood, sweat, and tears went into the completed work. The thing's basically going to have wall-to-wall animation cell art, and be polished off with never-before-seen stuff like storyboards and "designs". Joe Pearson, the co-producer of the video, will guide readers through it all as well, so you should get plenty of inside info there as well.
All in all, it sounds like something that fans of Pearl Jam should not miss out on, and a tome that fans of animation and music alike might seriously want to check out. As for when you can expect to see Pearl Jam: Do the Evolution on the shelves of your favorite comics or book store, it'll arrive this coming October.