Hitting Previews magalog in exclusive fashion, fans of the king of all monsters won't want to miss out on Atomic Breath Godzilla.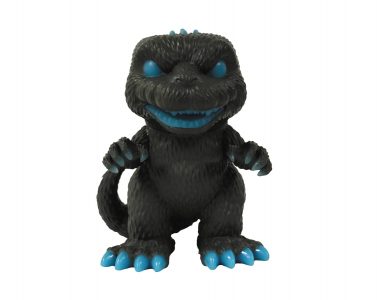 If you collect Funko's Pop! line of vinyl figures, then chances are you're all too familiar with the awesomeness that is their 6″ scale, super-sized pieces. Yes, they're 'only' six inches tall, but these guys tower over the normal three-inchers and looks awesome standing next to those smaller offerings.
So far, there've been larger figures of characters like the Stay-Puft Marshmallow man from Ghostbusters and a Big Daddy from BioShock- and now the company is adding the king of the beasties with Godzilla. And this special version of 'zilla has some added cool with glow-in-the-dark atomic breath. From the image, it looks as though Atomic Breath Godzilla will have glowing claws, spine, eyes, and mouth, all of which are meant to mimic his blasting-breath from the classic monster movies he starred in.
Want one? There's no release date listed on the press release, but I imagine that these will be going pretty fast once the hit, so you'll want to check out the April Previews magalog at your local comics shop and pre-order an Atomic Breath Godzilla for yourself.