The massive Deathmate story arc looks to be returning, but will it simply be a nod to the past presented in an all-new form, or something more?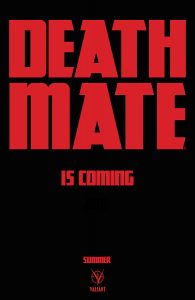 First; what is Deathmate?
A storyline that connected the Valiant and Image universes back in the mid-90s, Deathmate featured then-Valiant hero Solar (Man of the Atom) and Image star Void from Jim Lee's Wild C.A.T.S. book. The two met on an inter-dimensional trip and connected the twin realities. Long story short, they fell in love, but chaos ensued when that relationship started tearing at the very fabric of space/time.
The book was a landmark in a few ways, not the least of which because I think it might have been the first large-scale meet-up between characters that didn't hail from the Marvel and DC comic universes. Image was red-hot at the time, with its superstar creative talents, and Valiant was an upstart that caught the minds of many a reader. Simply- this was a pairing that could do no wrong.
And, according to the Wiki page for the event, that held true even in the face of monster delays on Image's half of the books. That was, uh, kind of a thing with them at the time if you remember (what's a 'release date'?).
Now, with this new tease, it looks like Deathmatch is back. Thing is though, we have no idea how it'll be returning. There isn't much of an Image 'universe' anymore to speak of. Sure they've still got the Savage Dragon and Spawn, but that's about it for interconnected titles I think, and Lee's characters are completely gone, now housed under the DC New-52niverse. On the Valiant side, Solar isn't in that publisher's stable either, and he was kind of the lynchpin of the whole event.
Also necessary to take into consideration is that Unity was a crossover event within Valiant's own books in the 90s, but was brought back as a super-team in the current continuity. So the use of the Deathmatch name could turn out to be something along the same lines. Maybe a new super-squad of heroes or even villains might be tagged with the designation. I guess it could also just be one single new character as well; anything's possible, especially with Valiant.
The publisher has been on fire and shows no signs of slowing down, or being unwilling to shake up their status quo for that matter. Perhaps Deathmate might be an event-book, but one along the lines of the original Unity, something contained within the Valiant U.
Whatever way Deathmate is going down, we won't have to wait too much longer to see what Valiant's cooking. The company says that it will be hitting stands this Summer, and that there's much more to come on it at the C2E2 comic convention in Chicago, which is just next week.
Stay tuned.