Get ready for a year of cool variant covers as Dark Horse Comics celebrates three decades of awesome books.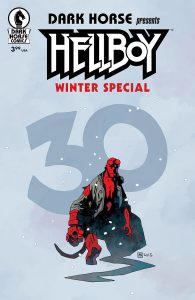 Bottom line: I'm a fan of Dark Horse Comics. I'm not a fan of everything that they publish, but a good chunk of it is awesome and the sheer variety of what hits the racks very month from the company is super-impressive. And it's kind of hard to believe, but they've been at it since 1986.
And thirty years of publishing means that a certain level of celebration is in order. To that end, Dark Horse has a year's worth of variant covers planned. Each month on the calendar, a special book will be chosen to receive a variant cover. More than that though, each one of these special issues will serve as a jumping on point for new readers, so the publisher will be building readership while tooting the horn just a bit.
On the racks right now, and kicking off the initiative, is that book that you see to the right- the Hellboy Winter Special. This book has a very special cover, as it's a nod to the very first issue of Dark Horse Presents (from '86). And it's got a ton to like in addition to that too. Tim Sale, Michael Walsh, Chris Roberson, and Chelsea Cain all make their Hellboy debut right here.
Next up for February is Dark Horse Presents, which continues the theme with both a story featuring Lara Croft a cover illustration by Joëlle Jones that mimics the cover art of Dark Horse Presents #9. This issue features the talents of writer Mariko Tamaki.
Then March brings about Dan Abnett's first installment of the Predator: Life and Death arc. Much like Fire and Stone, this new storyline has Predators, Aliens, and yes – Engineers.The variant cover for this issue? It's by Dark Horse senior editor Chris Warner, who pencils a return to the very illustration he did for Dark Horse Presents #35, from way back in 1989.
And the final cover/issue that has so far been announced will be hitting in April with Brian Wood and Tristan Jones' Aliens: Defiance. Dark Horse promises the scariest xeno that "you've seeing years" and a variant cover by Mark A. Nelson that should remind you of Dark Horse Presents #40.
Those will get you started, but you can expect even more of the variant images to be released soon. In the meantime, enjoy the gallery.