One of the breakaway stars of the latest Star Wars film, X-Wing pilot Poe Dameron is now the star of his own book from Marvel Comics.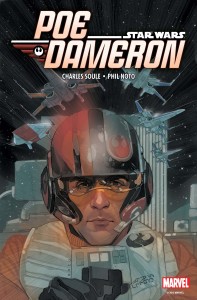 Set to be the first comic based on The Force Awakens, Star Wars: Poe Dameron #1 will arrive this Spring and bring a whole new look at the Resistance with it. The book will be set before the events of this past December's film release, and will follow Dameron on a secret mission for General Leia Organa (shouldn't it be General Leia Skywalker?) that could hold "the key to saving the galaxy". You can also expect to see those baddies of the new-generation, The First Order in hot pursuit, chi probably means that Kylo Ren will be there as well.
"With Star Wars: The Force Awakens exceeding expectations the world over, it could not be a better time to be a Star Wars fan," says Marvel SVP Sales & Marketing David Gabriel. "And with Poe Dameron being one of the breakout stars of the film, we're thrilled we get to continue the story of this fan-favorite in the comics. Expect a series with the same high benchmark of quality as our recent Star Wars titles."
And on that level of quality, you'll be getting a creative team with this book that's knee-deep in Star Wars already, so they know what they're doing. Charles Soule, who worked on the Lando and Obi-Wan and Anakin books, will be joined by artist Phil Noto, who you know from Star Wars: Chewbacca.
Expect to get back into the cockpit of an x-wing this April, with Star Wars: Poe Dameron #1.