Get a Death Star full of Star Wars comics (and everything else that Marvel offers digitally) with this new deal, and get your first month free.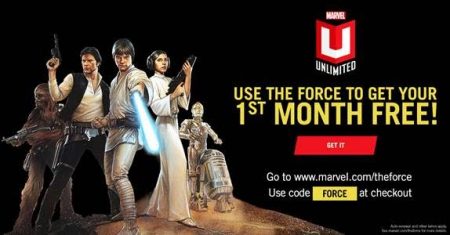 "Star Wars, Darth Vader, Princess Leia and Kanan: The Last Padawan and over 500 Star Wars Legends digital comic books along with over 17,000 other Marvel digital comics featuring your favorite Marvel Super Heroes!" Not a bad deal right there huh? Marvel Unlimited was already a pretty phenomenal really, but with the addition of the Star Wars lineup of books, it gets nearly irresistible for fans of the Galaxy Far, Far Away.
It's particularly great if you haven't been paying attention to the new Star Wars comic stuff (shame on you, they're great) and are now wrapped up in full-on Star Wars madness. And because your first month's free of charge, it's doubly excellent. Enter code FORCE at checkout to get in on this deal, which once again not only nabs you all the Star Wars stuff (over 500 comics), but also the full 17,000k book catalog of Marvel's superhero stuff.
Just hustle up, because this is a limited time offer, and Marvel hasn't shared just when it'll be ending.