Angel Catbird? Yes, Angel Catbird; the first in a series of three graphic novels that combine cat, bird, and man into one superhero tale that should standout – and it's all for a good cause.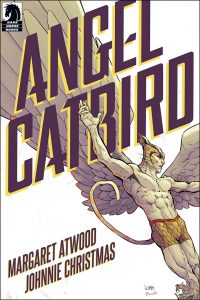 The first graphic novel from Booker Award–winning author Margaret Atwood, Angel Catbird teams the writer with artist Johnnie Christmas for a story about a man, some "genetic Super-Splicer" and a cat. And a bird.
While the premise is a tad off-kilter and all in good fun, the book actually will benefit a great cause led by the oldest conservational charity in Canada, Nature Canada. The initial release in a set of three 6×9 graphic novels, Dark Horse's Angel Catbird will be published "in tandem" with Keep Cats Safe and Save Bird Lives. The books will cost you $10.99 USD and will have a lot more released about them in the coming year.
For now though, have a look below and go a little deeper into who Angel Catbird is, and why he's got some 'issues'.
"I have concocted a superhero who is part cat, part bird. Due to some spilled genetic Super-Splicer, our hero got tangled up with both a cat and an owl; hence his fur and feathers, and his identity problems," said Atwood.

"Margaret Atwood has created a bold and unforgettable new character, paying homage to both classic pulp heroes and traditional comic book origin stories," said Mike Richardson, Dark Horse's publisher and president. "We're proud to bring Margaret's Angel Catbird here to Dark Horse, since it is exactly the kind of creator-owned graphic novel we are committed to publishing."

"What should you expect from Angel Catbird? Imagine, if you will, a strange mix of Will Eisner's The Spirit, Grant Morrison and Chas Truog's Animal Man, and Ryan North and Erica Henderson's Squirrel Girl," said acquiring editor Daniel Chabon. "Angel Catbird is a humorous, action-driven, pulp-inspired story. And the only other thing I can tell you at this early date is to expect a lot of cat puns."

"I wanted to find an artist whose style Margaret liked, and who I felt comfortable working with and who shared the vision for the project," said consulting editor Hope Nicholson (The Secret Loves of Geek Girls), who brought Angel Catbird to Dark Horse. "Johnnie Christmas is, by all accounts, a perfect fit."

"It's tremendously exciting to work with one of the great contemporary novelists," said Johnnie Christmas. "I can't wait for readers to experience the world of Angel Catbird that we're building. It's got warmth, heart, humor, and lots of action."