Tablift just might change the way you use your tablet.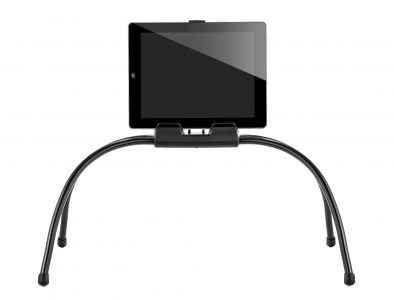 Ever get tired of holding onto your tablet while you use it? Ever want to use it while laying relatively flat on your back, and not risk dropping it onto your face? While remedying these might not be the most life-changing of things, the fact is that using a tablet like an iPad isn't conducive to most reclining poses. There's pretty much nothing out there, save for a lap desk, that allows you to put the thing down while using it either.
You're pretty much locked into holding that iPad in your hands while surfing, and then finding an flat place to set it down or balancing it on your lap, if you need to type a message or compose an email. Well, all that goes out the window with the Tablift from nbrite. This handy dandy little stand allows you to fix your tablet (of pretty much any make/model) to it and forget it.
It's essentially a set of heavy, poseable, bendy metal legs that have a small notched 'platform' at the top. The platform's three deep notches allow you to attach your tablet in back, middle, or forward positions. This gives you angles for viewing while sitting, reclining, or laying almost flat respectively. Keeping it in place (because if it was just set there it would pretty much fall on you) is a bungee cord, which clips onto the top of the device.
All this means that, once you secure your device of choice, it isn't going anywhere. Since the legs are bendy too, you now have a pretty vast set of options on using your tablet that you don't have without the Tablift. The legs can be easily set in poses that make watching movies or scanning Facebook way more comfortable while you're on a couch or getting comfy in bed.
It's even nice when you're sitting in a chair honestly. I don't mind holding my iPad at all since it's so light, but it is a slight pain in the rear to have to constantly prop it up if I need to write something out on it. The Tablift solves that problem nicely, and the legs mean that pretty much any sitting position can be accommodated comfortably.
There's not much to find 'wrong' with this little guy, though I will say that removing your tablet can be a little bit of a pain. Though it's pretty darn far from being a 'major issue' you do have to unclip the bungee and then re-attach it when you remove and replace your iPad. It takes all of a few seconds. So basically, it's not as easy as setting it down and picking it up- though if you have a serious problem with that, you might have other issues.
Final Thoughts
I like this oddball little stand a lot. It's extremely easy to use and fits a ton of different situations. Though clipping my iPad onto and off of the Tablift wasn't as simple as I would have liked, it's not at all difficult either, and it opened up options of use that just weren't there before… or at least, not there without being a pain in the behind.
*This Review was based upon a Tablift supplied to BG by nbrite